Jeb Bush 2016: Iraq Response Front and Center in Presidential Candidate's Campaign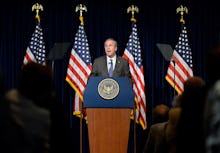 When it comes to Iraq, Jeb Bush has tried hard to distance himself from the role his brother, former President George W. Bush, played in the controversial war.
The former Florida governor's latest defense tactic? Blame others for the mess in the Middle East. 
Shots fired: On Tuesday, Bush set his scope on President Barack Obama and former Secretary of State Hillary Clinton, pinning the rise of the Islamic State terrorist group on what he said was their decision to pull troops out of Iraq in 2011, according to CNN. 
"So eager to be the history-makers, they failed to be the peacemakers," Bush said Tuesday during a speech at the Ronald Reagan Library in Simi Valley, California. "Rushing away from danger can be every bit as unwise as rushing into danger, and the costs have been grievous." 
One person he didn't mention when skewering U.S. foreign policy in the Middle East was his older brother. It was George W. Bush, after all, who initially pushed for withdrawing U.S. troops from Iraq by the end of 2011. Bush has previously said the one thing he wouldn't do on the campaign trail was throw his brother "under the bus." 
Instead, the younger Bush chose to focus his criticism on the administration that inherited the Iraq War. "I assure you: The day that I become president will be the day that we turn this around, and begin rebuilding the armed forces of the United States," Bush told the crowd Tuesday. 
Bush's Iraq problem: The Iraq legacy has haunted Bush since the the early days of his campaign. The presidential candidate has often been compared his brother and faced criticism for his family's involvement in the war. 
But Bush has frequently argued that he's not his brother. "I love my brother, I love my dad," Bush said in February. "And I admire their service to the nation and the difficult decisions that they had to make. But I'm my own man, and my views are shaped by my own thinking and my own experiences."
In May, Bush had a tough time fielding questions about his brother's decision to start a war in Iraq. That month, he said he would have supported the invasion, but he later did a complete U-turn.
"Here's the deal: If we're all supposed to answer hypothetical questions, knowing what we know now, what would you have done, I would have not engaged. I would not have gone into Iraq," Bush said at a town hall event in Tempe, Arizona, in May. 
Some political analysts wonder whether bringing up Iraq at all, let alone picking fights with other presidential candidates over the issue, is a smart move for candidate who shares the last name Bush. 
"It's curious that Governor Bush is choosing Iraq as the place where he wants to engage in a foreign policy debate," Jake Sullivan, a senior policy adviser to Clinton's presidential campaign, told Bloomberg. "It's an attempt to rewrite history. They might hope we'll all forget but the American people will remember."