Texas Officer From Viral Photo Compares #BlackLivesMatter to KKK and Skinheads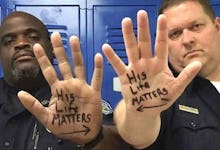 Amid protests in Ferguson, Missouri, surrounding the one-year anniversary of the shooting of Michael Brown, a black Texas police officer compared the #BlackLivesMatter movement to the KKK and skinheads. 
"I felt, as well as my chief felt, that the #BlackLivesMatter movement was just a wash," Trinity, Texas, Police Officer Donald Givens told Mic. "I personally saw it as just another hate group, just like the KKK, Black Panthers and skinheads."
Givens has gained some Internet fame after a photo of him posing with Trinity Police Chief Steven Jones went viral this week. 
The image shows Givens (below, on the left) and Jones, with both men holding out their palms to the camera revealing the message "his life matters" with corresponding arrows. The photo was uploaded to the department's Twitter feed on May 6 and included the hashtag #AllLivesMatter. At the time, it made a minor splash, garnering under 100 retweets (that number had since grown to over 200). 
The image only went mega-viral Monday after a share on the Facebook page of American Conservatives of Color, where it appeared with the caption "RIGHT ON, brothers!!" Since then, the photo generated has more than 20,000 likes and 100,000 shares, and reignited the debate over the controversial #AllLivesMatter movement.
Givens, who told Mic he was the only racial minority officer at his department, said he never felt any discrimination or discomfort from his fellow officers, and that he believes black Americans don't have any valid gripes with law enforcement.
"There are just more black people being killed by police. Does it mean they are targeted by police? I don't think so," he said. "I'm a Christian man. We all serve the same God. We need to live by our faith, walk the walk and become one brotherhood no matter what race or creed we are. We can't get to that particular place if you're going to be divided."
"I personally saw it as just another hate group, just like the KKK, Black Panthers and skinheads."
Targeted or not, the facts are indisputable. According to one study, young black men are 21 times more likely to be shot dead by law enforcement than young white men. In a New York Civil Liberties Union analysis of stop-and-frisk data from 2014, 55% of all people stopped by the New York Police Department were black, while just 12% were white. More than 4 in 5 people stopped were completely innocent. 
According to the Guardian, U.S. police have killed 711 people so far in 2015. Of those, 184 have been black, a rate of about 4.4 per million. White and Latino people have been died during police encounters at rates of 1.73 and 1.87 per million, respectively.
In July, meanwhile, Democratic presidential candidate Martin O'Malley was booed off the stage at Netroots Nation when — like the officers in Trinity — he told protestors that "all lives matter." 
While the statement was well-meaning, a recent Reddit post contains a succinct analogy explaining the issue many activists take with it:
Imagine that you're sitting down to dinner with your family, and while everyone else gets a serving of the meal, you don't get any. So you say, "I should get my fair share." And as a direct response to this, your dad corrects you, saying, "Everyone should get their fair share." Now, that's a wonderful sentiment — Indeed, everyone should, and that was kinda your point in the first place: that you should be a part of everyone, and you should get your fair share also. However, dad's smart-ass comment just dismissed you and didn't solve the problem that you still haven't gotten any!
Nevertheless, as the Trinity police photo demonstrates, the debate over the relevancy and appropriateness of #AllLivesMatter remains far from settled.