Explosion in China Rocks Northern City of Tianjin, Sending Hundreds to Hospital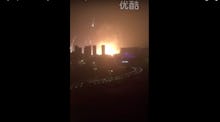 A massive explosion in Tianjin rocked the northern Chinese city right before midnight Wednesday local time, according to the BBC. The blast, which the New York Times reports was possibly caused by a chemical explosion, occurred at Tianjin's Binhai New Development Zone, killing at least 50 people and injuring more than 700.
Although there's still no confirmation on what triggered the explosion, Twitter updates from locals are citing inflammables and explosives at a container terminal in Tianjin. 
Witnesses and local news sharing their footage from the explosion say the shockwaves could be felt from more than six miles away.
Explosions in China — some explained, some not — are a regular occurrence in a country that often lacks effective safety regulations in its workplaces and industries.