Lil B Has Figured Out the Future of Hip-Hop — Here's What It Will Look Like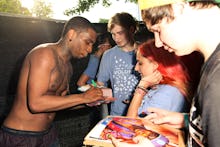 On Tuesday, we witnessed a glitch in the Matrix. Rapper Lil B, aka The Based God aka "the strangest rapper alive," appeared on CNN to talk politics with Brooke Baldwin. Before launching into the day's topic — his Twitter endorsement of Bernie Sanders in July — Baldwin took two minutes of a seven-minute segment to explain who Lil B is and why he matters.
It's not easy. But it's worth it.
Lil B has mastered the art of curating a hip-hop cult persona. In doing so, he set a new standard for success. Rappers in today's musical climate don't have to appeal to radio norms or follow traditional hip-hop decorum in order to become a star. They can be found on TV discussing subjects like Bernie Sanders and are often engaging with fans through social media.
Lil B has no record deal. He has no big awards and has made no hit records (other than the occasion viral, cult banger). But he's developed one of the most dogmatically ravenous fanbases in the genre. He's recorded thousands of songs from over 50 albums. He has more than 450 YouTube videos, several with over 1 million views, and just more than 1.1 million Twitter followers. He's given lectures at MIT, NYU and Carnegie Mellon, and has started conversations that have drawn attention from news outlets like NPR, the New Yorker and CNN. 
A new definition of alternative. In many ways, Lil B is the antithesis of today's increasingly corporatized hip-hop industry. His most recent release, last Wednesday's collaborative, entirely freestyled EP with Chance the Rapper, Free, highlights the conversational, inventive and raw style he's been pushing for nearly eight years. The timing, right at the height of the Drake and Meek Mill beef, put his unique strategy into even sharper relief.
Free's six tracks are unpretentious meditations on positivity and peace. It's a clear diversion from today's mainstream rap, which prioritizes sleek, maximalist songwriting that artists like Drake and his team of collaborators arrange. Lil B's artistry does not fawn to corporate interest. His unabashed comfort with his limitations, thoughts and views are who he is. 
In this way, his values align with rap's OGs, who prided themselves on authenticity and truths. Through the stories Lil B is telling, and how he's telling them, could not be farther from hip-hop's norms.
What it means to be based. Lil B understands his honesty is the only thing keeping his patchwork fanbase together. When asked by CNN's Baldwin why he's so influential, he responded: "Just being me being honest, and putting that through music, and putting that through music, having fun. I pride myself on being myself."
Everyday, his Twitter feed demonstrates his deeply self-reflective persona. Lil B is extremely visible to his fans — retweeting their posts, responding to their messages — and they return his affections with resounding praise.  He has created a culture of half-earnest, half-satirical adoration around himself and his words. But even his most inane nuggets of wisdom have kernels of resounding truth and positivity.
He's willing to grow. For years, hip-hop has celebrated the male who is hyper-masculine, unfuckwithable, invincible. But more than any other rapper, Lil B is admits his shortcomings and is looking to grow. This sensibility gives the impression that the childlike awe his fans praise him for is not a calculated brand play. It may merely be a inklings of a deep curiosity and desire to engage with life.
At the end of July, the rapper posted a transphobic tweet that his followers were quick to call him out for. After engaging in several extended exchanges, he posted a long apology, the boldness of which only becomes clear when you remember he's operating in one of the most stubbornly proud, misogynistic artistic movements of our time.
Lil B will figure it out. If nothing else, participating in the Lil B fandom feels like participating in the growth of an artist. He's transparent with his thoughts, feelings and music. His beats and rhymes feel fresh out of the lab, rather than slaved over by dozens of hands to get it perfectly radio-polished. Throughout his scores of mixtapes, he's always reaching for new ideas — and that quest has had a measurable impact on the genre. Lil B helped introduced the world to the kinds of atmospheric production styles that are very in vogue in hip-hop right now. He introduced the world to Clams Casino on 2010's 6 Kiss, who's gone on to craft hits for A$AP Rocky, The Weeknd and FKA Twigs.
Lil B has created a new paradigm for how a rapper can thrive in 2015: If an artist is visible, unique and personable on the internet, they can create celebrity without having to bow to the traditional means of distribution. "The influence you do have, make sure you use that for the right things that's going to propel you, and propel your company. It's not always about making profit," as Lil B told a crowd at his MIT lecture back in November. "I'm very happy that I can come here and tell you I'm someone that has not been driven by the profit. You can succeed with the people." 
The Based God did it, and the next generation of rap should consider following in his wake."