This Video Reveals the Horrors Women Encounter at Planned Parenthood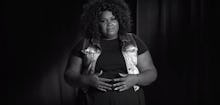 No woman was injured in the making of this video — unless you count giggling until it hurts.
The Center for Medical Progress, a staunchly anti-abortion rights group headed by self-described "proud millennial" David Daleiden, just released a sixth video trying to discredit Planned Parenthood. 
So Funny or Die released its own video to set the record straight. 
Poking fun at the mounting conservative rhetoric aiming to dismantle the nonprofit organization, the video features satirical confessions from women such as, "Planned Parenthood overwhelmed me with the ability to make my own choices — without having to ask my congressman." Another woman lamented the fact that they made her wear a "hospital gown" that showed her butt. 
HORRIFYING.
A fight has been brewing over federal funding of Planned Parenthood due to the fact that the organization provides abortion services (though current policy states federal dollars cannot be used to pay for abortion services). During last week's first Republican primary debate of the 2016 election cycle, candidates held a metaphorical pissing contest over who could attack the largest sexual health care provider hardest. 
Days before, former Florida Gov. Jeb Bush quipped about the appropriate amount of money to spend on women's health care in the same manner a candidate would promise cutbacks by admonishing the government's muffin budget. Prominent Republicans are now threatening a government shutdown over Planned Parenthood's funding — and it's not like they haven't tried that before.
For the record, the vast majority of what Planned Parenthood does is not related to abortion. In fact, the abortion rate has gone down thanks for service providers like Planned Parenthood who increase access to contraceptives, a key factor in lowering the abortion rate. According to reproductive rights nonprofit the Guttmacher Institute, Planned Parenthood prevented 2.2 million abortions in 2010.
Going to Planned Parenthood isn't scary. The prospect of politicians defunding the largest provider of women's health care, however, definitely is.