Jason Mitchell, Eazy-E Actor, on His 'Straight Outta Compton' Role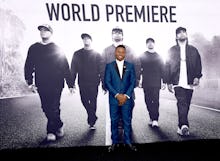 Jason Mitchell, the actor playing Eazy-E in the new N.W.A biopic Straight Outta Compton, has bigger hopes for the film than box office success. 
In a recent interview with HuffPost Live, the 28-year-old said he wanted the movie about the controversial '80s gangster rap group from Compton, California, to help audiences understand Eazy-E's impact on the greater Los Angeles community and for viewers to remember the rapper for more than his death from complications with AIDS.
"You have to rebuild the [mindset] of people who only know him for messing over the group and [dying] of AIDS," Mitchell told HuffPost Live last week. "He was so much more than that. And it was important for me to hit every little mark because by the time he dies of AIDS [in the film], I want everybody to feel like L.A. felt when they came out with the candles and all these vigils and all these tributes. ... I wanted people to really really understand why."
Mitchell added that he wanted to leave a "lasting impression" with audiences. 
Filmmakers announced the movie's cast lineup last summer. Mitchell was chosen for the part of Eazy-E, a founding member of N.W.A, or Niggaz With Attitude, and executive producer of their 1988 debut studio album Straight Outta Compton. 
The decision to cast Mitchell wasn't without controversy. Eazy-E's real-life son wasn't pleased with being glossed over for the part, reportedly saying, "I am my father. I look like him. I sound like him."
Other actors chosen for the film were O'Shea Jackson Jr., who plays his real-life father and former N.W.A member Ice Cube; Corey Hawkins, who was cast as Dr. Dre; Neil Brown Jr., who plays DJ Yella and Aldis Hodge as MC Ren.
On filming the movie, Mitchell said he found it hard at times working with director F. Gary Gray. "To be honest, he never let up. As a young actor you don't realize how you have to drive a scene," Mitchell told RedEye Chicago. "Because my job was to come in and do my job every day, but his job is to see it on so much of a broader level."
The film, which hits theaters Friday, is expected to be a hit, according to the Los Angeles Times.