The Internet Is Having a Field Day With Tom Brady's Courtroom Sketch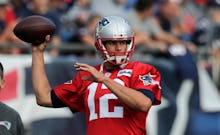 As the Deflategate controversy rages on, Tom Brady, the New England Patriots' quarterback at the center of the allegations he and his NFL team used under-inflated footballs during the 2014 season, entered a courtroom on Wednesday as part of an appeals process over the four game suspension the league handed Brady. 
The NFL Players Association and Brady met in court to discuss the possibility of a settlement, and while no agreement was reached, something came out of the day in court: a truly "special" courtroom drawing.
In almost no time at all, the Internet took the photo and turned the drawing of the NFL superstar into a meme for the ages.