Has Bronzed Skin Finally Been Replaced With a Healthier Beauty Goal?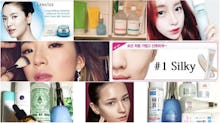 August is traditionally the month of competitive bronzing, when social networks give way to hotdog leg humble brags and bathroom mirror selfies showing off tan lines. As far as #skingoals go, the most enduring one has been tan: good skin = tan skin.
But this summer marks a shift in attitude on tans from both beach and bottle. Evidence is mounting that consumers don't necessarily want to go for gold: Bronzer and self-tan products aren't the big industry movers they used to be, around half of tanning salons in the United States have closed since a government-mandated "tan tax" pushed prices up and makeup artists have started urging a lighter dusting of bronzer in place of the solid walnut look of a fake tan. 
The fading of tan skin from our collective beauty fixation coincides with the breathtaking rise of Korean makeup products worldwide, which has offered us a new #skingoal: clear, glowing and luminous — in any shade. 
Asian innovation jumps the pond: South Korea has established itself as the most innovative market for skincare over the past few years, spawning big trends like BB cream, sheet masks and cushion compacts, all borne out of the Korean determination to achieve dewy, blemish-free and youthful-looking skin.
"In Korean beauty, the skin itself is one of the most prominent features, and the makeup is designed to allow the natural beauty of the skin to take center stage," beauty blogger Cat of Snow White and the Asian Pear told Mic.  "This means that having beautiful, near-flawless skin that can bear scrutiny is a must, and there is the heart of the intense investment into skincare."
The eager embrace of Korean beauty is in part thanks to "Hallyu," a word that refer to the "Korean wave" of culture that has turned a country of 50 million people into a world heavyweight in entertainment, fashion and technology. But it's also thanks to the sheer innovation of South Korea 's beauty industry, giving us products we've never seen before.
Beauty brands in Korea, along with those in Japan and China, have been booming. According to a recent Business of Fashion report, Asia is expected to account for 80% of the skincare industry's revenue gain by 2019, meaning the companies will be focused on meeting the beauty priorities of women in markets like China and South Korea. 
That also means South Korean beauty, both the products and the physical traits they emphasize, will become only more popular in the Western world. It's already evident on couture runways, which this summer were filled with Korean beauty references in the form of glowing skin and minimal eye makeup at Chanel and Dior.
The embrace of Korean beauty, with its newfangled products, may be just what U.S. shoppers were waiting for, Kerry Thompson, founder and editor of Skin & Tonics and co-author of upcoming book Korean Beauty Secrets, told Mic.
"The drugstore and big-box skincare market here has been stale for some time. Skincare products and brands at that level often feel more like personal hygiene offerings rather than beauty products," Thompson said. "Korean beauty made skincare fun again."
It's also emphasized a skin ideal in which glow and shine, not bronze, is the most important trait.
A fresh #skingoal to strive for: As glowing skin comes into vogue via South Korea, the fixation on crisply tanned skin is fading. That may be thanks to our awareness of sunbathing risks: Around 5 million people are treated for skin cancer in the U.S. each year, and melanoma is the only type of common that's becoming more prevalent, not less. Or it may be because the mainstream popularity of self-tanner has worked to reduce the glamorous credentials of bronzed skin, now that an orange tan is the hallmark of C-list celebrities and Bachelor stars.
It's also likely that the virtuous trend for healthier living, including juicing, spinning and those avocado-heavy brunches, has brought with it a preference for healthier-looking skin — a natural, post-workout flush, or one enhanced by strategic beauty products.
Either way, it's clear the glow achieved by Korean beauty is enticing more and more American women, as they take on the intricate, lengthy skincare routines that Koreans have made their signature.
Korean beauty accomplishes that goal and then some. Koreans are famous for their intricate, lengthy skincare routines to achieve that glow, and more and more Americans are trying it.
"Her perfect, glowy skin convinced me to ditch my two-product bedtime routine in exchange for her eight-plus product regimen," wrote Huffington Post editor Michelle Persad of Alicia Yoon, founder of Korean beauty site Peach and Lily. Editor Cheryl Wischhover of Fashionista tried out her own Yoon-inspired 12-step skin routine.
It's not only beauty professionals getting into the game, as evidenced by the thousands of #KoreanSkincare posts on Instagram. Some American (and notably non-Korean) bloggers, including The Beauty Imprint and The Wanderlust Project, have dedicated their blogs to Korean beauty exclusively, while others are just discovering the powers of Korean products to achieve glowing skin.
Establishing naturally glowing skin as the ideal not only presents us with a healthier #skingoal — it's a more inclusive one. The "tanning trend" as presented by beauty magazines has always spoken to a certain subset of light- or medium-skinned women, overlooking those on either end of the spectrum, whose very fair or dark skin can't meet the ideal pushed by the media and cosmetics companies.
The #skingoal isn't pale skin per se, although that is a Korean beauty standard called "ulzzang," consisting of clear pale skin, flushed lips and Bambi eyes. Ulzzang is as unattainable for most women as Gisele-style bronze is. 
But Korean beauty can present a refreshingly different ideal that has nothing to do with tan. Said Skin & Tonics' Thompson, "I would love to see [tanning] fall out of favor here. I think there's a lot to be said for feeling proud of your natural skin tone, no matter how dark or light it is."