3 More Women Raise Cosby Rape Allegations; He "Blessed" One With Semen Like "Holy Water"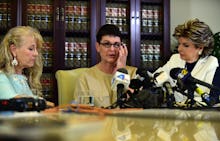 The unwinding of Bill Cosby's decades of alleged sexual assault continued Wednesday after three new women came forward saying the star had sexually assaulted them during the course of their careers, the Wrap reported Wednesday.
Among the graphic details, one of the women said, "When Cosby was done, there was a horrible mess of semen all over my face ... He was mumbling that I had been blessed with his semen as if it was holy water."
The three women, Colleen Hughes, Eden Tirl and Linda Ridgeway Whitedeer, revealed the charges at a press conference in Los Angeles with their attorney, Gloria Allred. 
Though the assaults had all happened decades ago, some described in detail how Cosby had attacked them. Whitedeer told the assembled reporters she first met Cosby on a movie set while pursuing an acting career in the early 1970s. She accused the comedian of forcing her to perform oral sex in a private office. 
"I felt Cosby's left hand gently grab my long hair behind my head ... his giant frame blocked the door so if anyone should try to enter, they would not be able to see what he was doing," Whitedeer said. "As I looked up his penis was out of his pants and he shoved it in my mouth. His attack was fast with surgical precision and surprise on his side."
She continued:
"When Cosby was done, there was a horrible mess of semen all over my face, my clothes and in my hair. He took out a Kleenex to try to wipe off my face. I was bordering between vomiting and passing out. He was mumbling that I had been blessed with his semen as if it was holy water."
Colleen Hughes, meanwhile, was working as an American Airlines flight attendant when she met Cosby on a flight to Los Angeles. She told reporters the comedian "flirted with me the entire flight" before inviting her to have lunch in Beverley Hills. In a description very similar to those of previous victims, the two ended up at her hotel room and Cosby ordered champagne. Hughes awoke several hours later.
"My clothes were thrown all over the room and I felt semen on the small of my back and all over me," she told reporters. "Bill obviously did not use a condom and there was no lunch and he was nowhere to be seen."
Hughes, Tirl and Whitedeer now join the dozens of women who have accused Bill Cosby of sexual assault over a decadeslong period that closely tracked his own meteoric career. Cosby has never faced charges relating to any of the claims, and his own attorney has steadfastly denied every allegation. 
The comedian did, however, settle a civil suit with one accuser, Andrea Constand in 2006. During the same period, Cosby also sat for a deposition where he admitted to purchasing quaaludes for the purpose of having sex with women and to using them on at least one occasion. 
Though statute of limitation laws will likely prevent Cosby from ever being brought to justice for the majority of his numerous alleged crimes, he will face another deposition relating to the case of another alleged victim, Judy Huth. Huth, who is also represented by Allred in a civil case against Cosby, was a minor at the time she says she was assaulted; her case, therefore, falls under California's more stringent child abuse statutes.  
The deposition will take place Oct. 9.
h/t the Wrap