Janelle Monáe Led a #BlackLivesMatter Protest in Philadelphia Guided by "Black Joy"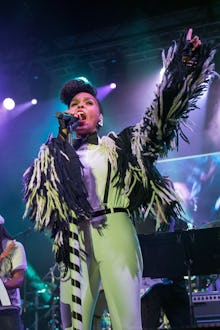 Janelle Monáe kicked off her Eephus tour alongside R&B singer Jidenna in Philadelphia on Wednesday night. While in town, they brought a lot more than music to the city. 
Before the show began, Monáe led over 150 protesters in a march through Philly's streets, raising awareness for police brutality and #BlackLivesMatter.
"They say a question lives forever, until it gets the answer it deserves," Monáe said, addressing the crowd at the rally, according to the Guardian. "Won't you say their names? Can we say their names right now? Can we speak their names, as long as we have breath in our bodies?" 
The crowd broke into chants, reciting names of Freddie Gray and Sandra Bland, and they took their voices through the streets, led by the drums of the Wondaland band.
Local activists organized the march using the hashtag #BlackJoyPhilly on Twitter. "In the wake of police brutality and numerous other things, we wanted to make sure that the world knew that black joy is still important and it's relevant," Melanie McCoy, one of the organizers, told NBC Philadelphia. "Just as important as black rage is, black joy is equally as important. We feel like we can use both."
Later, at Monáe's show, she took up the same "Say their names" refrain during a rendition of "Hell You Talmbout," a bonus track off Monáe's Electric Lady. 
"People are gossiping about what I'm wearing or who's dating who — we need to turn that conversation around about who's being killed," Monáe told her audience. "We want you to say their names as we say their names. We want y'all to never forget." 
Check out the video of of that epic performance below and check out more pictures from the march here.