'Modern Family' Star Ariel Winter's Powerful Reason for Getting Breast Reduction Surgery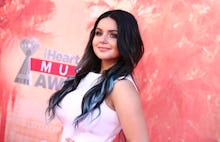 As Alex Dunphy on ABC's Modern Family, actress Ariel Winter has basically grown up in front of America. She joined the show when she was just 11, after all. If going through puberty in the gossipy halls of high school sounds bad enough, imagine the waking nightmare that is doing it in the tabloids.
For Winter, the process has been particularly excruciating thanks to her sudden breast growth. "It really did happen overnight," Winter told Glamour of her body's development. "I remember being in my sister's wedding and being so flat and thinking, 'I just wish I would grow boobs!' and then overnight I did. But then they kept growing and growing and growing and it didn't seem like they were going to stop."
Soon enough, Winter said, she was 15 and had size 32 F breasts. The headlines turned cruel quickly.
"We live in a day and age where everything you do is ridiculed. The Internet bullies are awful," she told Glamour. "On [red carpets], I just said to myself, 'You have to do your best to look confident and stand up tall, and make yourself look as good as you can in these photos,' because everyone is going to see them. I definitely seemed confident; I'm an actress, that's what we do. But on the inside, I wasn't feeling so happy."
After struggling to deal with online harassment and increasing back pain, Winter made the decision to get breast reduction surgery on June 4. It was a health concern, made with the advisement of her doctor, but also an intensely personal one.
"As women in the industry, we are totally oversexualized and treated like objects," she told Glamour. "Every article that has to do with me on a red carpet always had to do with 'Ariel Winter's Crazy Cleavage!' Or 'Ariel Winter Shows Huge Boobs at an Event!' That's all people would recognize me by, not, 'Oh, she does great work on Modern Family.'"
Why speak out about the surgery? Winter said it's about the power her story can have. "It's something that I did to better my life and better my health and I think that that can benefit a lot of young girls. I have felt more happy with myself than I ever have," she said. "I'm really grateful that I'm able to do that and have a voice that I'm able to speak to teenagers."
Winter's first public appearance post-surgery will be at the Emmy Awards next month, where Modern Family is up for several awards, including Outstanding Comedy Series, the category it has won five years in a row. For her part, Winter is excited for the chance to step out publicly for the first time post-surgery.
"I can pick something else and still feel good about myself. I couldn't do that before," Winter said of picking out dresses. "I'm excited to finally actually feel confident and not just appear confident."
Read the entire interview at Glamour.