One Month Later, Here's How That Nude Lingerie for Women of Color Is Doing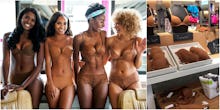 Brown and beige bras aren't the kind of lingerie that typically get attention (lace, animal prints, cutouts, flowers — pretty much anything else ranks above). But a collection of solid-colored bras and panties grabbed the Internet's attention this past year, for finally addressing a customer who's been long ignored.
Nubian Skin finally gives women of color "nude" underwear and bras that actually match their skin tones. The line, the brainchild of British entrepreneur Ade Hassan, launched online and in Europe last September. It took until this July for the line to reach the U.S., when Nordstrom finally introduced Nubian Skin's brown bras and underwear to its shelves.  
One month later, how has it fared? Just check in with women on Tumblr, Twitter and Instagram:
"The feedback has been incredible so far – we are really grateful for how supportive people have been! People tweet us things like 'I'm shopping for Nubian Skin in Nordstrom this weekend!' which gets us excited. It's great to know that people want to see our products," Amy Lodder, a Nubian Skin marketing executive, told Mic.
The brand wouldn't reveal sales numbers, telling Mic, "We can say that we're very pleased with our launch at Nordstrom so far." 
But dollars aside, the more telling thing is the online enthusiasm, the kind not witnessed with most clothing brands — and clearly reflects a long-awaited desire of shoppers that Nubian Skin finally fulfills. 
The industry standard for lingerie has long used "nude" as a shorthand, offering up miles and miles of light beige (read: white) items that completely ignored women of color. But the tide is turning, as black shoppers both get retailers attention and create their own solutions. 
As Mic's Theresa Avila reported, more companies are springing up to provide panty hose, shoes, makeup and even Band-Aid-like bandages catering to darker skin tones.
"I think that a lot of people are starting to realize that 'nude' isn't just one colour, and a few other brands are making progress on this front too – like Christian Louboutin," Lodder told Mic. "It's great because it gives women of color the chance to embrace their color in a way that wasn't previously recognized – to finally get their own 'nude.'"
And it's clear how women react when they feel like brands are finally recognizing them and giving them their own products, suited especially for them. Just check Twitter.
Correction: Aug. 30, 2015
An earlier version of this article named Bianca Miller as the founder of Nubian Skin. Ade Hassan is the founder.