Phoenix Just Passed a Ruling That Will Help All Their Homeless Dogs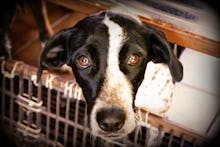 A federal judge in Arizona upheld a Phoenix city ordinance last month mandating all dogs sold in pet stores come exclusively from animal shelters and not the much-maligned "puppy mills."
Phoenix is now about one of about 60 U.S. cities with similar laws designed to cut off profits from going to puppy mills and instead drive owners toward homeless animals and dogs raised by reputable breeders.
The original Arizona ordinance was passed on December 2013 and forbade pet stores from purchasing dogs from commercial breeders. While many breeders adhere to strict codes of ethics, like those of the Great Dane Club of America, many others produce puppies in conditions that have more in common with factory farming. So-called puppy mill operators force dogs to spend their lives as breeding machines, often in decrepit and inhumane conditions. More often than not, it's all completely legal. 
"Most dogs are out of state," Phoenix Councilwoman Thelda Williams told Mic. Williams, who sponsored the original ordinance, said Arizona was already overwhelmed with homeless dogs and didn't need to "import" more from out-of-state mills. "You don't take something and sell something that's suffering just to make a dollar," she said.
Williams said she saw the misery of puppy mills first-hand on an investigative trip with Maricopa County, Arizona, Sheriff Joe Arpaio. "I personally went with them on a couple investigations of puppy mills and saw their environment," she said. "I knew what the conditions are and what puppy mills are like and we needed to do something."
According to the American Society for the Prevention of Cruelty to Animals, the problem is much larger than just one state. In a fact sheet on their website, the animal welfare organization reported the number of legal puppy mills in the United States was between 2,000 and 3,000, but the real figure could be as high as 10,000 when including unlicensed and illegal breeding operations. 
Since there is no legal definition of a "mill," pet stores are responsible for independently making the call. According to the ASPCA, responsible breeders never sell to pet stores anyway, to ensure their animals end up in good homes.
The Phoenix ordinance had been challenged by area pet store Puppies 'N Love. Located in the city's Paradise Valley Mall, the decades-old family-run pet store said they did their best to only buy from ethical breeders and that the ordinance would force them to close.
"Our family built this business over four decades, working with ethical breeders, developing personal relationships with those men and women whose animals we proudly sell in Phoenix," store co-owner Frank Mineo told the Arizona Republic. "I'm disappointed in the judge's ruling."
The Arizona Humane Society takes in roughly 31,000 animals per year. Now, thanks to the Phoenix ordinance, more of them will be offered the chance at a good home.