Ohio Gets the Green Light to Vote on a Controversial Marijuana Legalization Plan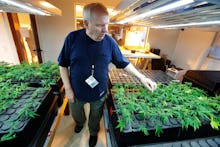 Marijuana will be on the ballot in Ohio this fall, thanks to a privately funded group of rich investors seeking to overturn statewide prohibition and immediately assume control of commercial pot production.
ResponsibleOhio collected more than 320,000 signatures in support of its pro-legalization petition, Ohio Secretary of State Jon Husted confirmed late Wednesday. The amendment permits individuals 21 and older to possess up to an ounce of pot for personal use. With a $50 license, they can house (but not sell) four marijuana plants and eight ounces of harvested weed.
Voters will decide the fate of the group's controversial constitutional amendment in a Nov. 3 referendum. If it wins and then survives the likely court battle to follow, Ohio would become the first state to go from full prohibition to full repeal without using medicinal availability as a way station to outright legalization.
But that's not the only reason this plan stands out. The Ohio bid is structured much differently from past campaigns, including the now famous successes in Colorado, Washington, Oregon and Alaska. Unlike its predecessors, the Buckeye State initiative is bankrolled by private investors under the umbrella of the ResponsibleOhio group, which says it expects to spend tens of millions of dollars making its case to the public between now and November. 
Former boy band member Nick Lachey and Texas check-cashing magnate William "Cheney" Pruett are among the well-heeled backers to sink money into the initiative.
According to ResponsibleOhio's website, the amendment calls for "10 initial commercial growing sites" to be "operated by separate companies and have to compete with each other on price and quality." 
"There is no coordination between them," the group says, and "they will be trying to make money by selling the best goods at the best prices to stores, dispensaries and manufacturers." 
Additional licenses would be offered if the "10 do not meet demand." ResponsibleOhio did not respond to Mic's request for an explanation of how the law would qualify "demand" and whether businesses interested in growing marijuana for retail or wholesale purposes would be charged for the privilege.  
A February report by the Cincinnati Enquirer suggested that at least two of the four landowners who sold real estate in or around the city to ResponsibleOhio say they were not informed that it would be used to raise marijuana if the amendment survives.
Not convinced: The Marijuana Policy Project, a Washington, D.C.-based pro-legalization lobbying organization, is officially neutral on the bid, but its director of federal policies, Dan Riffle expressed a number of concerns.
"We support ending prohibition, but in initiatives we've written, like Colorado's and Alaska's, we've used a competitive, merit-based licensing system," he said in an email Thursday. "ResponsibleOhio awards the licenses before the law is even passed to the campaign's financiers, and builds them into the constitution, which limits flexibility on a policy area where you need flexibility."
State auditor Dave Yost has been vocal about his opposition to ResponsibleOhio's "business plan," arguing in an op-ed last week on Cleveland.com that "the amendment as currently pitched would result in the "the creation of a cartel of rich guys to control the market." 
"A legalized, properly licensed market should be available to all comers," Yost wrote, "not just the few with the money to enshrine into the Ohio Constitution a monopoly for themselves."
Legal fight ahead? Ohio lawmakers have already drafted legislation they believe would undercut the amendment, should it prevail on Election Day.
Called "Issue 2," the competing initiative would prohibit any voter-driven "constitutional amendment that would grant a monopoly, oligopoly or cartel, specify or determine a tax rate, or confer a commercial interest, right or license to any person or nonpublic entity." 
If both the "Issue 2" and ResponsibleOhio votes succeed, the question would be decided in the courts.
A state commission is set to meet on Aug. 18 to iron out the language as it will appear on the ballot. A recent poll, conducted by Quinnipiac in July, suggests Ohioans are inclined to support legalization, by 52% to 44%. 
The bigger question now: Will that majority step forward and back the current amendment, if their approval also means changing the very nature of a slow-burning but powerful grassroots movement and effectively replacing it with a powerful Big Marijuana industry in their own backyard?