Demi Lovato New Album 2015: Here's What We Know About Her Next Project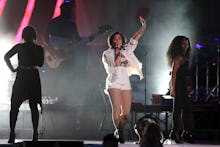 Demi Lovato hasn't shied away from talking about her soon-to-be-released yet still untitled new album, which will likely drop in the fall of this year.  
What do we know about the 22-year-old "Heart Attack" singer's fifth studio album, her first since releasing Demi in 2013?
A "new Demi": In a recent interview for On Air with Ryan Seacrest, Lovato said fans could expect a "completely new Demi" on the album, one who's perhaps more... "provocative?" 
"There's a side of [me] that people don't get to see with my past music, but it's been there," she told Seacrest. "It's totally been there."
She added, "there's definitely a lot of provocative songs on the album." She described its sound as "kind of rock-pop," but with a lot of "rhythmic flares." Lovato told Seacrest she was "done with like the sob stories and the tales."
She also spoke with the host about her sobriety: "Just because I'm sober doesn't mean that I'm judging anybody else for their stuff," Lovato told Seacrest. "And also, it also doesn't mean I didn't have a damn good time back then either. I'm having a good time sober — a better time for sure."
An album in the works: Lovato spent much of 2014 touring and promoting Demi. That album propelled the singer to the top of the music charts with hits like "Heart Attack," "Really Don't Care" and "Neon Lights."
On recording her new music, Lovato's manager Phil McIntyre told Billboard in December, "She's already done some songs, but certainly the majority of it will kick off [in 2015]."
At least one track could include rapper Iggy Azalea. "I'm trying to figure out which song right now, actually, to put her on," Lovato told Seacrest in an interview earlier this month. "But it will definitely happen ... I am so excited not only to be one of her bridesmaids, she's one of my closest friends, and it would be an honor to have her on my album."
Lovato has had a hell of a year. The singer released a hit summer single, "Cool for the Summer," has graced several magazine covers and had an adorably public relationship with actor Wilmer Valderrama. 
"I think she's one of the handful of the music stars in the industry right now," Disney Music Group president Ken Bunt said of Lovato, according to Seventeen. "There's not a lot of people who could go do two arena tours [in one year] anymore, and she's one of them. There were three hits off of this record, and when she plays, there's plenty of hits now."