Lana Del Rey "High by the Beach" Video and Lyrics: Singer Packs Heat in Summer Single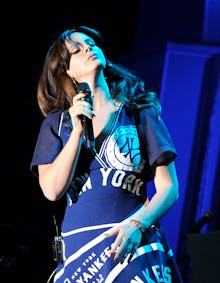 Lana Del Rey's new summer single "High by the Beach" now has the music video it deserves. 
In the video, released Thursday on YouTube, Del Rey goes full action hero, taking down her photographer stalkers with explosive results. Suck on that, paparazzi, Del Rey is saying (in her own, sultry way, of course).
The video features Del Rey galavanting through a beach house while crooning the lyrics of her summer pop song — and sporting a really big bazooka, which she uses to take down the helicopter that's been stalking her.
First, the helicopter ambushes Del Rey while she's relaxing at her beach house. 
Then things take a turn when Del Rey produces what appears to be a grenade launcher of some kind.
And then there's the explosive end:
The pop song, which leaked online earlier this week, was somewhat uncharacteristic of Del Rey, who is not known for producing summer pop hits aside from her breakout "Video Games." Despite its contemporary mainstream appeal, the new song is still pure indie. 
"Boy, look at you, looking at me," Del Rey sings. "I know you know how I feel / Loving you is hard, being here is harder / You take the wheel I don't wanna do this anymore / It's so surreal, I can't survive / If this is all that's real."
Fans quickly embraced the video. 
Watch the full music video for "High by the Beach" here: