The Netherlands Made Sex Work Legal 15 Years ago — Here Are the Shocking Results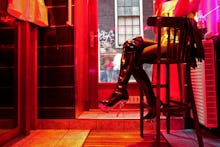 After two years of research and discussion, human rights watchdog group Amnesty International voted on Tuesday to support policies around the world to decriminalize sex work.
The organization's goal may not have been to make the world a giant version of the Netherlands, where sex work was legalized in 2000, but the Dutch view is that legalization can help detach crime from prostitution, and keep sex workers safe. 
When driven underground, sex workers can be exposed to "physical and sexual violence, arbitrary arrest and detention, extortion and harassment, human trafficking, forced HIV testing and medical interventions," according to Amnesty International. "They can also be excluded from health care and housing services and other social and legal protections."
Bringing the industry out into the open could be a step in the right direction.  
Sex workers' lives have improved. According to the Dutch government, a study of the quality of life of sex workers in 2002 and 2007 showed improvement. Infrastructure has emerged to provide physical and mental health care, tools for STI prevention and ways to report abuse or violence. Many sex workers choose independent employment, but because sex work is now considered a legal job, the government mandates that owners of brothels, who operated under the radar for years must follow labor regulations and pay taxes. 
According to the Dutch Ministry of Foreign Affairs, a legally authorized worker over the age of 21 can pursue sex work. In Amsterdam alone, the ministry reports an estimate of between 5,000 and 8,000 people actively in this line of work; there are as many as 31,000 throughout the Netherlands, according to some researchers. A currently proposed law would crack down on illegal sex work in the country, holding their employers responsible for violations, according to the Dutch Ministry of Foreign Affairs.
Opening a brothel in the Netherlands is a detailed process. It requires a license, according to government guidelines. Anyone wanting to be a stay-at-home sex worker doesn't need to be licensed as long as they work alone. Still, soliciting work on the streets is not permitted in Amsterdam, nor is unlicensed escorting or paid hanky panky in massage parlors. Other municipalities throughout the country can reduce or restrict prostitution as they sees fit. 
What about trafficking?
Anyone forcing people into sex work — either minors or people brought to the country against their will — can face up to 18 years in prison, depending on how severe the circumstances. According to the Dutch government, the licensing system made the whole industry easier to regulate and tamp down on the illegal exploitation of minors. Still, it hasn't rid the country of sex trafficking or abuse.
Some problems, however, still linger. Women in red-light districts are still exhibited like pieces of meat in windows. Because of persistent stigma, those with sex work on their resumes still have trouble transitioning to non-sex occupations. Last year, Amsterdam shut down many of these window brothels in an attempt to combat sex trafficking, causing a protest of sex workers whose jobs were affected. "You get 50 euros for a fuck and a blow job; you have to pay your rent and your tax, sometimes also your pimp," Wendel Schaeffer, a social worker for Prostitutie & Gezondheidscentrum, PG292, explained in a Humanity In Action report. "That leaves you with no money. Because the women are independent workers they can choose for themselves how much they work. If they need money they often make working days of 16 hours. This is very exhausting for the body and the mind." 
Clearly, the politics behind decriminalizing sex work are complicated. Amnesty International consulted with advocates and those in the field to ensure their guidelines are fair to sex workers while also emphasizing the need to protect and help those who have been trafficked. "Sex workers are one of the most marginalized groups in the world, who in most instances face constant risk of discrimination, violence and abuse," Salil Shetty, Amnesty's secretary general, said in a statement. That is why changing the legally murky status of countless people around the world — whether their work is out in broad daylight or hidden underground — is so crucial. As Miriam, treasurer of the Dutch sex workers union Proud, declares on the union's website, "Only rights can stop the wrongs."