Meet the Next Great Rap Stars, From the Man Who Brought Us Eminem and Snoop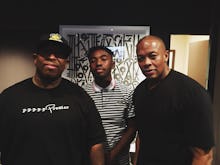 More than as a rapper or as a producer, Dr. Dre's foremost musical gift is in his skill as a curator.
He has one of the most refined ears in the industry, as well as the creative energy to recognize talent, cultivate it and harness it into some of the most epic hip-hop collaborations the world has ever heard. He did it with Snoop Dogg on The Chronic, Eminem on 2001 and when it came time to release Compton, his first album in 16 years, he did it with up-and-coming hip-hop young blood Justus and King Mez.
"The new artists, man, I've got King Mez and Justus, these guys just came in and grinded with me throughout the entire project," Dr. Dre told Zane Lowe on Beats 1 on Aug. 6, in advance of the album drop. "In fact, most of the lyrics are written by us three."
King Mez has writing credits on 12 out of the 16 tracks. "It feels like my album too," King Mez told Mic. "Of course, it's Dre's album. But I feel like a big part of the team, instrumental in putting it together." Working on the album was a life-changing 11 months for both of the young MCs. 
If history is any indication, we're looking at hip-hop's megastars of the future.
Meet King Mez. After Compton's opening newscast track, the first words on the album come from King Mez's mouth. His "I don't give one fuck!" sets the tone for the album. "For a dude to trust me like that... I mean, it's his first album in 16 years, the biggest person in hip-hop. He's closing out his career, I'm starting mine, I'm opening his album. It's crazy. It's life-changing," King Mez told Mic.
King Mez, whose name is Morris Ricks, is 25. He has been rapping in the Raleigh, North Carolina, area as a full-time gig since he was 18 years old. The first album he bought with his own money was Dre's 2001 — he listened to it religiously. 
Ricks hooked up with Dre through Big Pooh, a member of the hip-hop group Little Brother who's from nearby Durham, North Carolina. Big Pooh told Dre's label about what King Mez was doing and Dre invited Ricks down to a writing session, where he worked in a room full of other writers. After Ricks and the other artists had been writing for a few days, Dre checked in and expressed interest in a track Ricks had written.
"He asked who I was. I remember he didn't ask anyone's name," Ricks told Mic. "I remember he asked mine specifically."
Dre eventually invited Ricks to start working more closely with him on the project. Ricks started working 12-hour days and once clocked a full 24 hours in the studio. "I've always been a harder worker than most of the people around me. It was interesting to go into the studio and work with a guy who works much harder than myself. This is a guy who doesn't have to be in the studio or work ever again in his life. It's interesting to see he's still so passionate."
Inside the mind of Dre: Ricks had little difficulty crawling into Dre's mind to help him translate his story into verses, as Ricks saw his own upbringing as strikingly similar to Dre's. "From our dads not being around, to the things we saw growing up around our neighborhoods, to us both being good at math and science, to us both going to school to become engineers — or, Dre was on track to study that coming out of high school — but a lot of people don't know that about Dre, and a lot of people don't know that about me," he told Mic.
King Mez likened writing for Dre to "method acting," as did Dre's other collaborator Justus. Justus had to stretch a bit more, though.
Meet Justus. Justus, aka Justin Mohrle, didn't find many parallels between his and Dre's lives. But he still found getting to know Dre and helping him tell his story extremely gratifying. "I remember one record that didn't make [the album] touched on his brother who passed away, and that was heavy," Mohrle told Mic. "But it felt good for [Dre] to be able get that off and for me and Mez to help him get that off his chest."
Mohrle hails from Dallas, Texas, where he has been trying to cultivate an underground scene for years. He connected with Dr. Dre through the D.O.C., one of Dre's longtime collaborators, who's also from Dallas. The D.O.C. recognized Mohrle's talent, and together they cut a short five-track demo. When the D.O.C. told Mohrle he was going to take it to Dre, Mohrle thought nothing would come of it. But a few weeks later he found himself shaking hands with Dre in his trailer on the set for Straight Outta Compton.
"As soon as I walked in the trailer, he goes: 'What up, super star?'" Mohrle told Mic, "and from that moment I knew everything was going to be all right." 
Initially, Mohrle didn't know what he was working on, but as they wrote and scrapped dozens of songs the project slowly became Compton. Mohrle learned a tremendous amount working closely with the legend, and asserts that Dr. Dre was an active and skilled contributor to their writing process. He did not rely entirely on Justus and King Mez to ghostwrite for him.
"He was trying to help me create more of a palette. I remember one time he told me, 'Look at this as a painting. You're sketching right now. You're a great sketch artist, but you need to finish these paintings. You need to have the colors in mind before you start drawing. You gotta have the full picture in your mind before you even start sketching.' And that was really poignant to me. It made a lot of sense."
Dre's perfectionism took Mohrle aback. He said all the stories about Dre telling his collaborators to retake lines dozens of times are absolutely true. "You don't understand in the moment why he's telling you to do it again," Mohrle said. "But then when you hear the product that he has you deliver it all makes sense. It's not even about saying the word perfect, or what you say, it's the feeling that's portrayed through the speaker when you say it. He's listening with his heart instead of his ears, and that's something I'm really trying to pick up on and understand. And it might be something you have to cultivate over a long period of time."
Justus is only starting out now, and based on what he delivered on Compton, he's already on his way. He and King Mez are both diving in to work on their own projects and are psyched to share them with the world when they're ready. We'll see if they can channel the same brilliance that they brought to Compton when it's their names on the cover.