These Gorgeous Nude Photos Are Proving That Love Isn't Just for Skinny People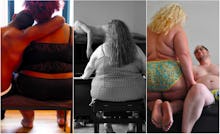 When it comes to mainstream depictions of sex on film and TV, we rarely see fat people naked. 
Though we have the occasional glimmer of body affirmation in the form of characters like Hannah Horvath of Girls,  the vast majority of nudity in pop culture features conventionally thin women. 
Luckily, there are people out there who want to challenge this.
Meet our new body-positivity hero Substantia Jones (side note: YAASS to this delightful SATC play on words), a self-described photo-activist who is using her camera lens for a great cause: to shine a light on intimate love between people of all different body types.
Note: The photographs in this post contain nudity and therefore may be NSFW.
Photos with a purpose: In an email to Mic, Jones explained that the mission behind all of her work is to "combat sizeist bigotry and weight-related misinformation, and to promote discussion of body politics."
With this set of stunning images, which she calls the "Valentine Series," Jones aims to empower people to embrace their bodies in the context of intimate relationships.
"For this series, I photograph fat people of all genders with their partners, gay or straight," she told Mic. "I hear from lots of folks who feel the photographs of couples validate their own relationships. But more than anything, the 'Valentine Series' is for the subjects of the photos themselves."
The subjects of the photos cited many reasons why they wanted to strip down for the camera. "Some are using the shoot to help them get to that place of self-acceptance," Jones said. "Others just want to thumb their nose at a culture dominated by sizeist bigotry and weight-loss propaganda fueled by the angst industrial complex. In the case of couples, there's also that element of romantic love that manifests as a need to shout it from the rooftops, y'know?
"I'm happy I can give couples the opportunity to revel on that rooftop. Naked, if they want. And without body shame."
Check out more of the photos below, and head over to Substantia Jones' website to see even more of her revolutionary work.