NBC Fires Donald Trump From 'Celebrity Apprentice'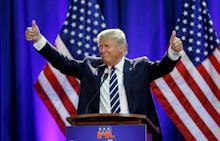 Donald Trump has once again found himself on the receiving end of two words he's uttered countless times: You're fired.
NBC announced Thursday it had officially sent the real estate mogul turned presidential candidate packing from The Celebrity Apprentice, which Trump had hosted since 2008, the Canadian Press reported. 
The network's entertainment chairman, Bob Greenblatt, told the Associated Press Thursday the show would not return next season but that several people had expressed interest in taking over in the future.
"He is a lovely guy," Greenblatt told the AP of Trump. "He was very much a collaborator and worked with us closely on Celebrity Apprentice and, you know, there's a really effusive great guy. We weren't in any sort of adversarial position."
But the network had cut ties with the controversial White House hopeful in June following offensive remarks he made about Mexican immigrants. 
"Due to the recent derogatory statements by Donald Trump regarding immigrants, NBCUniversal is ending its business relationship with Mr. Trump," the network said in a statement that month. "At NBC, respect and dignity for all people are cornerstones of our values."
The network also expunged all of Trump's scheduled programming, including his Miss USA pageant. The pageant was picked up by REELZChannel, however its ratings plummeted. 
Trump took NBC's rejection in stride, first defending his offensive comments about Mexicans, then lashing out at the network for being "weak" and "foolish."
On Twitter Thursday, Trump downplayed NBC's announcement that he'd officially been let go. He said he left the network to run for president.