Dr. Dre Says He Regrets Brutally Beating a Woman in 1991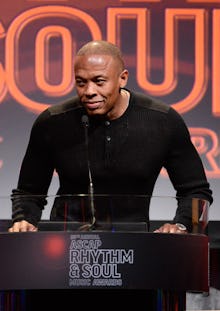 American rapper and music producer Dr. Dre has spoken out about his brutal assault of journalist Dee Barnes at a nightclub in Los Angeles 24 years ago.
Dre, née Andre Romelle Young, said he regretted the incident in an interview published in this month's issue of Rolling Stone. "I made some fucking horrible mistakes in my life," Dre told the magazine. "I was young, fucking stupid." 
He said, "Those are some of the things that I would like to take back. It was really fucked up. But I paid for those mistakes, and there's no way in hell that I will ever make another mistake like that again."
Dre was one of the subjects of the new film Straight Outta Compton, out Friday, starring actor Corey Hawkins as the famed California rapper. The movie centered on N.W.A, an abbreviation of Niggaz Wit Attitudes, a controversial Los Angeles rap group from the '80s and '90s whose members included Arabian Prince, DJ Yella, Dr. Dre, Eazy-E, Ice Cube and MC Ren. 
N.W.A disbanded in 1991. Ice Cube was the first rapper to leave the group two years earlier, a move that sparked a feud between the members. 
Dre's brutal beating of Barnes happened in January 1991. Barnes, who at the time was the host of Fox's hip hop show Pump It Up!, had recently interviewed Ice Cube about his leaving the group. 
The other members, Dre included, thought the interview portrayed them in a negative light. 
Dre encountered Barnes at a record release party. According to a Rolling Stone article from August of that year, the rapper reportedly picked Barnes up and "began slamming her face and the right side of her body repeatedly against a wall near the stairway." He then tried to throw her down the stairs, but failed. 
Barnes retreated to the women's restroom, where Dre followed her. He then "grabbed her from behind by the hair and proceeded to punch her in the back of the head." 
Dre never denied the attack, and even told that the "bitch deserved it," according to the Rolling Stone piece. Barnes sued, and a judge ultimately fined Dre ordered him to complete 240 hours of community service, according to the Los Angeles Times.