Gwen Stefani New Album 2015: Latest on Her Next Release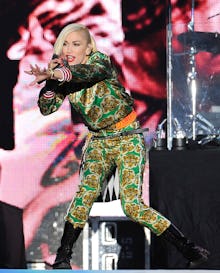 What ever happened to that third studio album Gwen Stefani promised would be released in December? The solo artist and No Doubt frontrunner revealed she was putting together an album chock-full of collaborations back in October when she did a Twitter Q&A session along with the release of her single "Baby Don't Lie."
But December came and went, and fans were left scratching their heads wondering about the follow up to 2006's The Sweet Escape.
Well, as it turns out, the wear-and-tear of having a third child, a full-time job as a judge on NBC's The Voice, and preparing for her first live solo show in six years takes a toll on any normal person, including the "Hollaback Girl" singer herself. 
Stefani told Spin in December:
"I feel like I was getting rushed by doing the show and trying to put the record out and having a new baby and doing No Doubt shows. It was just a lot to handle at one time, so I'm still working on the music and I think the only way to do it right now, with everything going on in my life, is to collaborate. Some of the best thing I've ever done — things I think are my favorite — are the collaborations."
The artist also told the magazine her collaborations with some other major performers were already well in the works, including tracks with Charli XCX, Sia, Calvin Harris, Pharrell and possibly Diplo and Coldplay's Chris Martin.
But the next month, Stefani clarified that apparent announcement in an interview with On Air with Ryan Seacrest, saying that while an album was definitely on its way, it would likely debut slightly later than anticipated: 
"I've been working on it. I feel excited now because when I first started working on it, I was like, 'I'm gonna put it out this year!' I was very kind of rushed about it. Now I feel settled in, I had the baby — he's going to be a year-old, can you believe that?! — I feel like now I'm going to go back in and do some more writing and be a little more relaxed about it."
Stefani told Spin she never actually intended to return to her solo career after landing her new gig on The Voice and working on new music with No Doubt. It was actually fellow artist Pharrell's encouragement and inspiration as a similar performer with a unique and eclectic range of stylings that brought Stefani back into the studio:
"Then, all of the sudden, he does 'Despicable Me,' and I was like 'Whoa, that's incredible! You did a soundtrack!' Then my kids started going, 'I want to be in the 'Happy' video!' I emailed him like, 'My kids are obsessed with you and I need to send you a video of them doing your song!' He wrote me back saying, 'That's awesome. I'm doing Coachella, I know you just had your baby a minute ago but we should do this together.' I wanted to do it because I wanted to show off to the kids and it seemed so fun. The first time I left the house after giving birth was to go on stage and do 'Hollaback Girl' with Pharrell at Coachella."
Stefani has since released two new songs, both of which will appear on her third studio album. In her latest, "Spark The Fire," Stefani thanks Pharrell for his contributions to her success: "The person next to you, feel that energy/ Let's lift them up as high as can be/ Finally remembering what is me/ That is what happens when I get with P!"
The artist's second EP, which will be present on her third album, strays from the dance-anthems toward a more reggae-toned feel. What's interesting about these two singles are the similarities in their accompanying music videos' aesthetics. Although the songs sound as though they're conceived from entirely different genres, their videos both use bursts of color and contrasting bright shapes flying across the screen. Stefani poses among dancers in "Baby Don't Lie," while colorful animations flash along throughout "Spark the Fire." Even the choreography in both videos seem to be familiar, which may point to future videos from Stefani having a similar look and upbeat pace.
The last we heard of the forthcoming album was in May, when Rapper LunchMoney Lewis told Seacrest that Stefani had played him a portion of the new album. "It sounds really dope," Lewis said on the same show where Stefani had spoken about her altered timeline just months before:
"She's working on a new album and it sounds really dope, it's crazy and she brought me in to collaborate with her and create some good energy. She's amazing. [The album] is really fun. It's like new Gwen and a taste of what we love from her. I just tried to add my little two cents." 
Lewis also told Seacrest he would be among the featured artists on Stefani's third studio album. As that list of collaborators appears to grow, fans anticipate one of her biggest projects yet. This will be the artist's first solo album in nearly a decade, but it seems Stefani still has some tricks up her sleeve.