The U.S. Just Raised Its Flag in Cuba for the First Time in 54 Years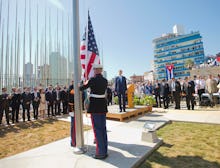 For the first time since January 1961, the United States flag is flying over its newly reopened embassy in Havana. Members of a U.S. military detachment raised the stars and stripes at 10:38 a.m. EDT on Friday, as Secretary of State John Kerry and select dignitaries from both countries stood at attention. 
Addressing the delegations moments earlier, Kerry offered a gentle rebuke of the Castro regime, encouraging the authoritarian government to loosen its grip on Cuban civil society. But he also spoke about a U.S. foreign policy which had "become locked in the past." President Barack Obama's decision to normalize relations, he said, marked a new era of engagement with the Cuban people and their leaders. 
Why the wait? The Cold War with the Soviet Union ended nearly 25 years ago. Before then, Moscow had seen the small island nation as its best chance to create a foothold in the Western Hemisphere, but their efforts, most infamously during the Cuban Missile Crisis of 1963, had amounted to little. 
"We are certain that time has now come to reach out to each other, not as enemies or rivals," Kerry said, "but as neighbors."
Then, with the three Marines who last lowered the flag 54 years ago standing by Kerry's side, it rose again. 
Important, but only a symbol: The U.S. has kept a minor presence in Havana since 1977, when it again deployed diplomats to an "Interests Section" that operated out of the Swiss Embassy. This more formal arrangement is the latest step in the Obama administration's process of normalizing relations, reuniting families and, ultimately, opening up travel and trade after decades of post-World War II strife.
But for one day, the symbol said it all. On Friday, for the first time since Jan. 4, 1961 — a little more than two weeks before President John F. Kennedy was sworn into the White House — this is the scene above the U.S. embassy in Havana.