Miley Cyrus Shares the Inspiring Reason Why Caitlyn Jenner's Story Matters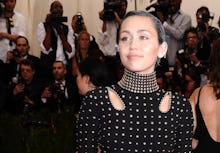 Caitlyn Jenner has befriended quite the roster of incredible women since coming out. Now, we can add Miley Cyrus to that list, thanks to a new interview the singer gave to Marie Claire.
"We've talked a lot about how you can never make every single person happy," Cyrus told the magazine of her friendship with Jenner. "We always laugh about people saying she transitioned to be famous. Which is crazy."
That, Cyrus indicated, is the exact reason why I Am Cait and the continued promotion of Jenner's coming-out journey is so important to feature. "Caitlyn has to tell her story, because if she doesn't, everyone else is going to tell it for her."
This is only the latest instance of Cyrus supporting Jenner. The singer created Jenner-inspired artwork that she auctioned for $69,000 at June's amfAR Inspiration Gala, and she has alluded to a collaboration between the two in the future.
Cyrus was also one of the first celebrities to come out in support of Jenner after her Vanity Fair cover hit the Internet, posting it on her Instagram account with the caption "I ?? Caitlyn!!!!"
Cyrus' support can only help with Jenner's visibility. Despite I Am Cait's revolutionary status on TV, the ratings have been quite poor in its first weeks. Jenner being able to tell her own story is incredible, but it's only effective if that story is heard. Cyrus has a young fanbase that supports her both in her work and in her would-be controversial statements. She's able to be honest about her gender fluidity and still count Bill Murray as a fan.
Hopefully, this friendship continues to be a beneficial one for both of them. It can only be a great thing when two of the most ambitious, groundbreaking people working in Hollywood team up.