Watch the Hilarious First Trailer For 'Ride Along 2' With Kevin Hart and Ice Cube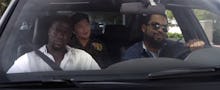 Universal Studios has released the first look at Kevin Hart and Ice Cube's return to the big screen in Ride Along 2, a follow-up to the box-office smash comedy that earned an impressive $154 million worldwide. In it, Hart and Ice Cube are back to their usual antics, heading to Miami to take down a network of drug dealers moving their product to Atlanta. 
The film, directed by Tim Story, is set for release on Martin Luther King Day weekend, Jan. 15, 2016, the same weekend the original film premiered in theaters in 2014. The film also stars Ken Jeong (A.J.), Olivia Munn (Maya Cruz), Tika Sumpter (Angela Payton), Benjamin Bratt (Pope) and Glenn Powell (Troy). 
The sequel takes Hart and Ice Cube, who play the roles of Ben Barber and James Payton, through a roller coaster ride of antics as the two are forced to bring down the drug network days before Barber's wedding date with Sumpter's character, Angela. In the trailer, Barber is seen trying to stand up to his fiancée and wedding planner (Sherri Shepherd), which doesn't appear to go well:
Deadline reports the opening weekend of Ride Along took off with $41.5 million, making it Ice Cube's highest earning film as a lead role to date. His character, James Payton, seems to be back harder than ever in this sequel, adding to an action-packed teaser with twists and turns.
Ride Along was one of 2014's highest-earning films in the United States, and was nominated for several awards including MTV Movie Award's Best On-Screen Duo, Best Comedic Performance (Hart) and a BET nomination for Best Actor (Hart), according to IMDb. 
Check out the full trailer for Ride Along 2, in theaters Jan. 15, 2016, below: