Maine's Welfare Drug Screening Program Caught Exactly One Person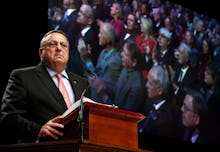 New England has a drug problem. In New Hampshire, home to one of the 2016 presidential campaign's first nominating contests, the candidates are often quizzed at length about how they'd combat it. Hillary Clinton held a forum there on Tuesday dedicated entirely to discussing her plans.
The same day, the Republican governor in neighboring Maine, Paul LePage, threatened in an interview with Bangor radio station WMOR to call in the national guard if legislators didn't allocate new funds to, as he wrote in a letter to statehouse leaders days earlier, "stop the flow of this deadly poison into our state."
Heroin- or opiate-related deaths have been climbing nationwide for years, but the northeast has been hit especially hard. Still, the response from LePage and his colleagues in Maine has been, to date, unserious and mostly animated by a familiar demagoguery aimed at the poor.
In 2011, legislators passed a program that would require welfare recipients and applicants with past drug convictions to submit to screening and, potentially, urinalysis testing. Four years later, the governor finally put the plan into action. The stated goal: to protect public funds earmarked for welfare recipients from being spent on illegal substances. 
"We must ensure that our tax dollars do not enable the continuation of a drug addiction," LePage declared in an August 2014 press release. "If someone tests positive for drugs, they are clearly putting their addiction ahead of their family's needs."
But according to an Associated Press report published this week, the state has, in the course of three months, sought out only 15 people for screening. Thirteen were stripped of benefits because they missed appointments or didn't show up, later in the process, to pee in a cup. 
Only one person actually tested positive.
State officials told the AP they expect the number of individuals entering the program to reach somewhere near 100 after a more thorough review of law enforcement records. Applicants who have been convicted on felony drug charges within the past 20 years are required to register for pre-screening assessments. 
In May, LePage pushed for more robust and randomized testing for all recipients, including individuals applying for food stamps. 
Opponents in the legislature balked immediately. 
"If we want to discourage drug use, there are far better ways to do it. This bill only further stereotypes and scapegoats the poor," Rep. Drew Gattine, a Democrat, told the AP at the time. The proposal was eventually rejected by his colleagues. 
The current screening apparatus has cost $624, according to information provided to the AP by a State Department of Health and Human Services spokesman, and been paid for with federal grant money. As of 2012, a single parent caring for two children was eligible for $485 in monthly benefits, per to the nonpartisan Congressional Research Service.
Who's really wasting money? Republican governors and state legislatures have pursued or enacted similar legislation in nearly a dozen states. The results have been uniformly unconvincing.
In Arizona, the total savings from 2009 to 2014 added up to $3,500, or about 0.2% of the $1.7 million officials promised when they were selling the program to the public. According to the Tuscon Sentinel, "42 people have been asked to take a follow-up drug test and 19 actually took the test, 16 of whom passed. The other 23 were stripped of their benefits for failing to take the drug test." 
The Wall Street Journal did a quick survey of the roll call of states embracing similar social welfare gimmicks and found more of the same. In Missouri from March 2013 to September 2014, the government required 69,587 individuals to enter drug screening. Of 1,646 then mandated to provide urine samples, 69 failed and lost benefits, while another 711 were stripped of theirs for not taking the test.
More notably, former Daily Show correspondent Aasif Mandvi crashed a Dec. 6, 2011, press conference with Florida Gov. Rick Scott and asked the Republican to submit to a urine test on the spot. Scott had recently signed a law requiring welfare recipients do the same in order to receive benefits.
"You've benefitted from hundreds of thousands of taxpayer dollars over the years," Mandvi said, "so would you be willing to pee into this cup to prove to Florida taxpayers that you're not on drugs?'' 
Scott never accepted the Jon Stewart crew's offer and a little more than two years later, after multiple legal appeals and challenges, shut down his program after a second federal court declared it unconstitutional. In casting the killer blow in December 2014, the 11th Circuit Court of Appeals noted that, of the "4,046 applicants [who] submitted to drug testing" over the course of four months, "only 108 — 2.67% — tested positive for drug use." 
More than 2,300 did not follow through with the screening process. If one argues that all of the absentee applicants were attempting to conceal drug use (which hardly stands to reason, given that a missed test had the same effect as a failed one), the rate jumps to 38%. Even in this heavily inflated state, it's hardly the overwhelming figure you'd expect given the heat coming off the relevant rhetoric. 
Lesson learned? Nope.
For conservative governors like Wisconsin's Scott Walker, now a leading GOP presidential candidate, the allure of appearing fiscally hyper-vigilant is too tasty a proposition. Walker touted the Badger State's controversial new law during his announcement speech on July 13.
"In Wisconsin, we enacted a program that says that adults who are able to work must be enrolled in one of our job training programs before they can get a welfare check," he said. "Now, as of the budget I just signed, we are also making sure they can take a drug test."
The Wisconsin law has many of the same provisions as the since-abandoned one from Florida. Additionally, it would subject food stamp applicants to similar screening procedures, which defies federal law. Knowing this, Walker has already launched suit against the U.S. government, purportedly to extract some clarity on whether he can move forward.
The political charade carries on. Walker, like LePage in Maine, has built up his conservative bona fides by energizing natural allies, then doubled his pleasure by staging a food fight with the liberal opposition. It's a morally expensive proposition with no political cost, so if you're thinking, "Ah, lesson learned!," you're right — just be clear on what the lesson is.