One Heartbreaking Tweet Reveals the Fear Parents of Black Children Face Every Day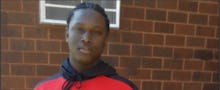 Ayden is 8 years old. 
Next month, he'll begin second grade at his elementary school in Dallas, Texas. For many parents, it's a time of feverish back-to-school preparation. In between notebooks and pencil sharpeners, Ayden's mom, author Leiann Wrytes, says she worries about another issue: making sure Ayden is not killed by police.
On Thursday, several days after the reportedly unarmed 14-year-old Radazz Hearns was shot seven times as he ran away from New Jersey state troopers, Wrytes was moved to post a powerful tweet. She's not a celebrity, and it didn't go megaviral, but in a few words she encapsulated the real risk black parents around the country face whenever their teenage boys leave the house.  
"I don't want [Ayden] to die from someone's mistake," Wrytes told Mic over the phone. "He is good but... he's a bundle of energy. When he gets frightened or scared, he runs." 
For Wrytes, the issue began long before Hearns. Around the time police shot and killed 12-year-old Tamir Rice in Cleveland for holding a pellet gun, Wrytes told Mic she had a conversation with her son. 
"I did explain to him that in our world, there are certain things you can do and certain things you can't," said Wrytes, who added that at 8, her son still had difficulty understanding what that meant. "He doesn't have water guns. If there are kids playing with stuff like that outside, he's not allowed to play with them. He can't form a gun with his fingers, I specifically told him not to do that."
Wrytes' chilling tweet was only one of dozens of emotional messages that have poured over social media as details continued to unfold over Hearns' shooting. On Thursday, the office of New Jersey Congresswoman Bonnie Watson Coleman announced she would request a federal investigation into the shooting.
"I am committed to uncovering the details of this shooting, and I look forward to facilitating conversations between law enforcement and our community to shed light on these events," she wrote in a statement.
The state attorney general's office also issued a statement announcing they were investigating all the facts of the case. A spokesman for their office told NJ.com they were actively seeking witnesses to ascertain exactly what happened. At least one witness NJ.com spoke to, however, was unambiguous. 
"Those police were amped and they didn't give that little boy a chance,'' Rhonda Tirado told NJ.com. "There was no room for no chase. They just shot that little boy right there."
As Ayden continues to grow up, this is exactly what Wrytes says she'll be worried about.