President Obama Just Dropped His Summer Mixtape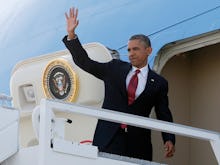 The POTUS is officially on vacay. Right now, President Barack Obama is posted up on Martha's Vineyard, probably with a cool drink in hand, the regal Bo by his side, living the good life. To his credit, he wants the rest of the country to feel the vibes with him.
On Friday, the commander-in-chief shared his summer playlist with the free world through the White House's new Spotify account. 
He's created one for the day and one for the night. Both are absolutely fire. POTUS has some seriously good taste.
Isley Brothers, Sly and the Family Stone, Stevie Wonder... Damn. The "Day" playlists features some serious grooves, covering a diverse array of genres from reggae to blues to hip-hop.
His summer "Night" playlist is even smoother, slowing down the tempo with Mos Def's melodic "UMI Says" and Nina Simone's "Feeling Good."
Obama has always prided himself on his music taste. Music has played a central role in both his campaigns, and he's spoken about his musical preferences in several interviews. "I've got old school – Stevie Wonder, James Brown. I've got Rolling Stones, Bob Dylan," he told Cincinnati radio station WIZF about what's on his "presidential iPod" back in June 2012 (before the iPod bit the dust... RIP). "And then I've got everything from Jay-Z to Eminem to the Fugees to you name it. There's probably not a group that you play that I don't have on my iPod."
Earlier this July, Obama was bumping Outkast.
POTUS knows how to chill. He's got amazing taste and he deserves to relax after the grilling Mic gave him in our interview on the Iran Deal. Check that below, and enjoy winding down summer POTUS-style, courtesy of Spotify.