'Straight Outta Compton' Reviews Say the Film Is This Year's Biggest Hit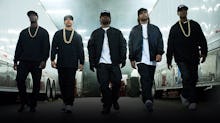 Straight Outta Compton opens in theaters Friday, and is slated for a big opening weekend, with beefed-up security at the film's premiere in Los Angeles.
Despite controversy and security concerns, the biopic's reviews are in, and so far, so good. Or, in fact, very good.
Critics say it does a good enough job covering the historic rise of the hip-hop group for music fans to be excited to see the film, while moviegoers will enjoy the storyline's message and relevance to today's Black Lives Matter movement. 
Scott Foundas, Variety's chief film critic, raves that the film portrays the unprecedented growth and success of N.W.A, as well as their subsequent fall from prominence in the music industry, with incredible form:
The movie has been made in high but never overindulgent style, with Matthew Libatique's richly textured widescreen camerawork deliberately avoiding shopworn images of South Central life while evoking a vivid sense of place, and the editing of Billy Fox and Michael Tronick keeping the complex narrative moving smoothly from beat to beat. The encyclopedic soundtrack — ranging across the N.W.A catalog, its members' solo ventures, their old-school R&B influences and the top-40 pop hip-hop would displace as the dominant sound of the era — has been assembled with similarly meticulous care.
The Hollywood Reporter notes while the film may forget to include some of the competing forces in the music industry at the time of N.W.A's rise (including Public Enemy and De La Soul), it makes up for it in highlighting the phenomenal growth of these rappers' careers from virtual unknowns to a chart-topping collective whose music is still a major influence in hip-hop today:
Produced by former N.W.A members Ice Cube and Dr. Dre (among others) and directed by F. Gary Gray, who started his career with an Ice Cube video and went on to direct his comic outing 'Friday,' the result is a self-portrait that predictably softens the edges of careers that generated even more controversy than we see here. But if the movie pushes most of the ugliest behavior off onto side players (like the notorious Suge Knight, played by R. Marcus Taylor), it does for the most part fulfill its mission, breathing life into the origin story of a group whose influence is still being felt.
Regarding those softened edges, it appears leaving out certain elements of the group's history of controversies (like their violent treatment of women and an incident where Dr. Dre physically assaulted a female journalist) was a conscious effort on director F. Gary Gray's part, who said such exclusions were necessary for ethical concerns. In a question-and-answer-forum, he explained these moments didn't serve the narrative of the biopic, and subsequently would be left out of the film, Vulture reports. 
Though their controversial first studio album, 1988's Straight Outta Compton (a name the film borrows), was barred from the mainstream radiosphere, N.W.A rose to fame for provocative lyrics that exposed the struggles of being black in America, including life in the projects and a strongly worded hatred for the police. 
As the film explores a rap group's encounters with police tension and racial inequality, audiences may detect a sense of timeliness with recent developments in Ferguson, Missouri, Baltimore and across the nation. Newsday says this message will be heard loud and clear by audiences across America:
F. Gary Gray's riveting biographical film about N.W.A, which shares its title with that landmark album, feels surprisingly urgent for a movie set roughly 25 years ago. It argues that whatever ugliness we heard in N.W.A's music hasn't gone away. It also implicitly draws a straight line from the police harassment that inspired the band's most incendiary track, "Fuck tha Police," to the recent killings of black men by cops in Ferguson, Cincinnati and elsewhere. Set to N.W.A's pugnacious rap tracks and crackling with the energy of a charismatic young cast, 'Straight Outta Compton' is the rare biopic that resonates beyond the music.
Vanity Fair echoes this film's importance as protests demanding reforms to police departments sweep the nation. The magazine goes on to say the biopic is perhaps Hollywood's greatest reaction to the unrest in the United States:
By dressing up the story of incendiary rap group N.W.A. in the comfortable clothes of the biopic, F. Gary Gray gives the rebels from Compton a seat in movie history right alongside Johnny Cash, Tina Turner, Ray Charles and every other musician deemed important enough for the biopic treatment. The fact that our heroes are young black men in baggy clothes gives 'Straight Outta Compton' significant power; watching N.W.A. channel their frustration with the police into song, and seeing those songs celebrated by a studio film, is probably Hollywood's most significant response yet to the Black Lives Matter movement. (The fact that it's still essentially the only one is a troubling issue for another time.)
Straight Outta Compton stars O'Shea Jackson Jr. as Ice Cube, Corey Hawkins as Dr. Dre and Jason Mitchell as Eazy-E, three members of Niggaz With Attitude, and is currently premiering in theaters nationwide.