O'Shea Jackson Jr., Ice Cube's Son, on Playing His Father in 'Straight Outta Compton'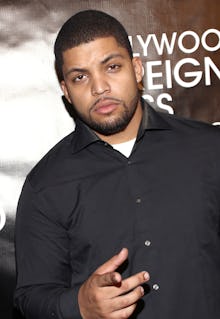 O'Shea Jackson Jr., son of famed rapper Ice Cube, has opened up about his role in Straight Outta Compton, a film about the 1980s Los Angeles rap group Niggaz With Attitude, or N.W.A, released Friday. 
In a recent interview with Entertainment Weekly, 24-year-old Jackson, who played his real-life father, spoke about how he prepared for the part, what he did to replicate his dad's style of rap and his favorite N.W.A song. 
"I've been studying my role for over 20 years," he told EW. "I had his mannerisms and things like that down. It was really to get a bunch of the '80s lingo. And really where his head was at."
He said he and his father would "talk every day" while filming Straight Outta Compton. "He would ask me, 'What scene are you doing today?' I'd explain it to him, then he'll sit back, reminisce, and be like, 'Oh yeah. That day, I was really trying to figure out what was going on with Eazy [N.W.A member Eazy-E, played by Jason Mitchell], because I had just asked him about the contracts.'"
On getting down his dad's rap style, Jackson said, "My brother and I have been performing with him since I was 18, so for about six years. When I was on stage, when I'm in the booth, that's actually my comfort zone. I'm new to acting — I'm not new to rapping."
And his favorite N.W.A.song? "'Gangsta Gangsta!'" Jackson told EW. "My Pops is on most of the song." 
The new biopic Straight Outta Compton centers on the lives of the N.W.A members, the group of rappers behind such songs as "Fuck tha Police" and "Gangsta Gangsta." 
They became known as the "world's most dangerous group," a reputation the rappers welcomed.
The group's provocative lyrics, often about life on the hard-knock streets of South Los Angeles, were notoriously violent, however they were also powerful messages about race and police brutality.
On "Fuck tha Police," the group raps about being targeted by Los Angeles police officers. "Young nigga got it bad 'cause I'm brown," Ice Cube raps. "And not the other color so police think / They have the authority to kill a minority / Fuck that shit, 'cause I ain't tha one / For a punk muthafucka with a badge and a gun /To be beatin' on, and throwin' in jail."
Ice Cube continues, "Then me and Lorenzo rollin' in the Benzo / Beat tha police outta shape / And when I'm finished, bring the yellow tape / To tape off the scene of the slaughter."
In an infamous 1989 letter to the N.W.A's record label, the FBI accused the rap group of inciting violence at a time that race tensions in Los Angeles were high. Authorities accused the group of instigating a culture war. 
Jackson said he saw a lot of similarities between the character he played in the film and himself. "You know, I'm the young guy in the group," Jackson told the YBF. "I'm still trying to figure everything out and I'm hanging out with the older crowd so that's a parallel with me. I'm the youngest one out of the five of us but I'm new to the acting thing and I'm getting my feet wet as well, so that definitely helped me feel more attached to the role beyond him being my father."