An Oklahoma Gun Range Owner Has Declared a "Muslim-Free Zone"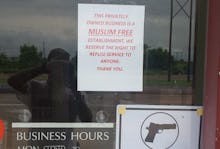 An Oklahoma gun range is under fire after posting a sign in their window explicitly forbidding the entry of Muslims. Chad Neal, a medically discharged veteran and manager of Save Yourself Survival and Tactical Gear, said it was a simple matter for him: terrorism.
"I didn't want any terrorists, or Muslims, cult, whatever you want to call them, training on my gun range," Neal told the Washington Post. "There is a military recruiting station in the mall in Muskogee, and I thought this was one thing I could do to help protect our local soldiers."
Posted just above the store's operating hours and a sign welcoming the use of holstered firearms, the message reads:
"This privately owned business is a Muslim free establishment, we reserve the right to refuse service to anyone. Thank you."
Save Yourself Survival and Tactical Gear now joins a handful of other firearm establishments, like Florida Gun Supply in Florida and Gun Cave Indoor Firing Range in Arkansas, that have enacted similar prohibitions in recent months.  
In a statement to Mic, the Council of American Islamic Relations decried the sign and what they said was the United States government's failure to act. 
"It is sad to see an Oklahoma business join the clearly illegal movement to deny service to American Muslims, and it is equally sad to note the silence of our government on this denial of religious freedom and equal access to public accommodations," Veronica Laizure, civil rights director of CAIR's Oklahoma chapter, said. "As a nation, we rightfully moved past 'whites only' businesses, but our national leaders seem unwilling to challenge 'Muslim-free' public facilities."
Despite the notoriety, bans like the one in Oklahoma are legally dubious and would likely run afoul of the 1964 Civil Rights Act. Title II of the act expressly mandates that: 
"All persons shall be entitled to the full and equal enjoyment of the goods, services, facilities, and privileges, advantages, and accommodations of any place of public accommodation, as defined in this section, without discrimination or segregation on the ground of race, color, religion, or national origin." 
As a business set up to serve the public (versus, say, a private yacht club), a gun store would almost certainly be classified as a "public accommodation" and therefore subject to the rule.
As of Friday afternoon, it was unclear whether any Muslims had been denied service to the range. Mic reached out to Neal, who did not reply by the time of publication.