Even the GOP Frontrunner Isn't Exempt From Jury Duty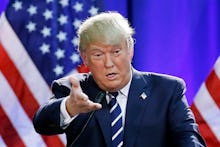 Donald Trump has jury duty — or at the very least, has been summoned for the selection pool.
The New York Times reports the billionaire Republican presidential candidate will report to the New York State Supreme Court in Manhattan on Monday morning, amid a busy campaign schedule including appearances in Iowa on Saturday.
"Despite the time that Mr. Trump is required to fulfill this civic obligation, the campaign will continue to go on. He is happy to comply with his civic obligation," Trump Organization executive vice president Michael Cohen told the paper.
The paper also noted Trump has repeatedly missed jury duty in recent years, earning himself a $250 fine. Cohen explained the court system had sent previous summons to a dead address.
While Trump may be required to show up in person, the chances of him actually ending up as a member of a jury are slim to none. As a celebrity presidential candidate, Trump would draw most of the attention over any case to himself, and almost certainly disrupt the proceedings. Former President George W. Bush, for example, recently reported for jury duty in Texas but was ultimately not selected to appear for duty.
h/t New York Times