The Genius Songwriters Behind 'Frozen' Are Working on a Brand New Movie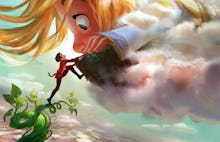 The "Jack and the Beanstalk" story has been adapted for film several times but has, surprisingly, never been given the Disney touch that turns timeless tales into major motion pictures — until now. 
Walt Disney Animation Studios will be transforming the English fairytale into a definitive version of the story set in Spain's age of discovery in the 15th century, according to Entertainment Weekly. The film studios also announced Frozen's Oscar-winning songwriters Kristen Anderson-Lopez and Robert Lopez will be composing the film's entire score.
John Lasseter, Disney's chief creative officer, announced the project Friday at Disney's D23 Expo at the Anaheim Convention Center in California alongside Tangled's director Nathan Greno, who will be heading the project. "You have to look at the original story, the iconic imagery, and then you have to mix in some twists and turns," Greno said to Disney fans attending Friday. "When John Lasseter asked us where are we going to set this film, we started looking around the world at different areas and countries, and we landed on Spain."
Frozen's composers debuted their first song for the film at the expo, which centers around the gigantic girl's discovery of her new, much smaller friend. The breakout success of Frozen can be attributed in part to empowering anthems like "Let It Go," which became commercial successes outside of the Disney film. Since Frozen's message of female empowerment and independence was so positively received, Disney has put a greater effort in creating diverse female characters like Ima, according to Time.
The film, currently slated for release in 2018, promises to differ from the flock of "Beanstalk" inspired films that have come before. "It's not what you've seen before, it's not one big castle with one big giant walking around," Greno promised fans. 
Gigantic is also set to stray somewhat from the typical "Jack and the Beanstalk" storyline, which sees Jack climb a magical plant to a giant-occupied castle and a wife for the titular hero to wed. Instead, Disney's version will have Jack encounter an entirely new world, including a feisty 11-year-old girl named Ima who happens to be 60 feet tall. "She gets her hands on a grown man Jack, and she thinks he's a toy," Greno says.