Here's the Shocking Number of People Norway's Police Have Killed Since 2002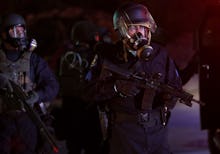 Americans may find the prospect of police forces that don't kill anyone next to incomprehensible. But across the Atlantic Ocean in Norway, police have shot dead only two people since 2002.
Patrolmen in Norway managed to slay not a single person last year. Meanwhile, U.S. police killed approximately 1,106 individuals, according to media reports compiled by KilledByPolice.net.
It's a stunning disparity:
Official U.S. national statistics kept by the FBI are far lower, since only a relatively small number of police agencies report who they kill (and under what circumstances) to the feds.
It's far from a perfect comparison. Norway is an extremely wealthy, low-crime country with a population of 5.2 million people, while the U.S. is a much more economically unequal nation with disproportionate rates of gun crime and a population of over 320 million.
However, Norwegian police haven't killed a single person since 2006, according to Norwegian government statistics compiled by Business Insider. In fact, law enforcement in the country fire their weapons only a handful of times each year, tending to injure fewer people than the number of bullets fired. In 2007, Norwegian police fired no shots whatsoever.
This is the number of times Norway's police forces have opened fire between 2002 and 2014:
Here's how many people were injured as a result:
This is a huge problem. It's fair to say that U.S. police regularly kill a staggering number of individuals compared to Norway, even accounting for the major socioeconomic differences between the two countries. U.S. officers kill many more people with Tasers alone. On one day in 2015, Cleveland police officers fired more than 135 shots during a high-speed pursuit of two unarmed motorists, both of whom died — over the 12-year period in the charts above, Norwegian police fired just 33.
Part of the responsibility for police killings falls upon the United States' high rates of gun ownership, while equal blame should be laid upon what the American Prospect calls "woefully inadequate" training for U.S. law enforcement on use of lethal force and de-escalation techniques.
But much of the blame should also go to the U.S.' decentralized law enforcement system, which leaves many state and local police agencies to set their own standards on when officers can fire and why. A recent Amnesty International survey found every single state (and Washington, D.C.) fails to meet international standards for use of lethal force.
When U.S. police kill more people over the course of a single weekend than many countries manage to in more than a decade, it's high time to examine what those countries are doing right. Lives are on the line.