Disney's Biggest Theme Park Expansion Ever Is Going to Thrill 'Star Wars' Fans Everywhere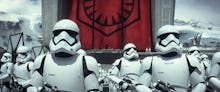 Star Wars fans, rejoice: The franchise is about to get its very own slice of one of the world's biggest theme parks.
The Walt Disney Co. has announced that they will be expanding both Orlando's Hollywood Studios and Disneyland in California to include 14-acre sections dedicated entirely to the Star Wars franchise, in what the Orlando Sentinel reports will be the company's single-largest expansion ever.
While the parks have long since held themed Star Wars weekends, there has been no dedicated space for hosting Star Wars-inspired rides and attractions. According to the Sentinel, the "new land is expected to give a big attendance boost to what's now the least-visited of all four Walt Disney World parks. Its last major addition was Toy Story Midway Mania, a combo ride and arcade game that opened in 2008."
Here's some impressive Disney/Lucasfilm concepts of the new space:
Disney parks remain the biggest tourism draws of all theme parks internationally, bringing in just short of 150 million visitors throughout 2014. When competitor Comcast Corp. opened a similar Harry Potter-themed zone titled The Wizarding World of Harry Potter at Universal Studios, profits jumped by a stunning 38 percent.
According to the Los Angeles Times, the space is expected to feature a simulation of the Millenium Falcon, as well as an attraction where guests will be swept through "a climactic battle between the First Order and the resistance."
h/t Orlando Sentinel