Here's What Ronda Rousey Looks Like as the Badass Captain Marvel We All Want to See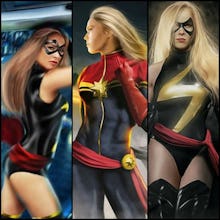 UFC fighter Ronda Rousey might have an idea who should play the titular heroine in Marvel Studio's upcoming 2018 film Captain Marvel: herself.
In a Reddit "Ask Me Anything" Q&A last week and recent posts to Instagram, Rousey more than subtly suggested that she would be qualified for the role.
"Since the Reddit AMA I've received so many badass Ms. Marvel/Captain Marvel edits!" Rousey wrote on Instagram. "There were so many cool ones I couldn't pick just one to share."
If Rousey wants the role, she'll have her work cut out for her. Rumored stars have included Eden Sher and Charlize Theron, though any guesses as to which casting decisions have been made remain pure speculation.
Still, if anyone has proven time and again just how capable they are of beating the odds, it's Rousey. Marvel fans can dream, right?
h/t SB Nation