See the Historic Moment When the NFL's First Female Coach Met the NFL's First Female Ref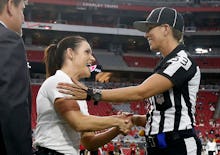 Ross D. Franklin/AP
At a preseason game between the Arizona Cardinals and the Kansas City Chiefs, some historic happened: The NFL's first female referee met the league's first female coach for some words on the field.
Jen Welters met Sarah Thomas, exchanging a handshake and a few private words.
Sarah Thomas is the first full-time female referee in NFL history, according to the Houston Chronicle's Aaron Wilson. In an interview with NFL Network, Thomas said, "I set out to do this and get involved in officiating not having any idea that there were not any females officiating football. Being a former basketball player, you saw female officiating all the time, so no, I don't feel like a pioneer."
Jen Welter serves as the Cardinals' assistant coach with inside linebackers, Sports Illustrated reports. 
"So she came to one of our OTAs this spring," head coach Bruce Arians told the magazine. "I found her really passionate about football. I asked if she was serious about it, and if so, I would love to give you the opportunity to coach with us. She jumped on it. She loves to coach."
Mic's Jamilah King recently wrote on the excellent summer female athletes are experiencing in 2015, with women "showing out at an unprecedented level, proving not just that they're worth watching, but almost shaming a world that's only just now tuning in." Female U.S. athletes like the U.S. Women's National Team, UFC fighter Ronda Rousey and tennis player Serena Williams have all drawn huge attention to their accomplishments, making a major dent in the historically male-dominated world of sports.
h/t Uproxx