Mike Huckabee Says 11-Year-Old Rape Victim Should Have to Bear Her Rapist's Child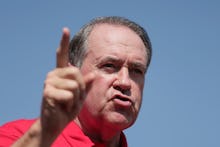 An 11-year-old Paraguayan rape victim who became pregnant is still alive, no thanks to the efforts of socially conservative legislators who have made the country's abortion laws some of the strictest in the world.
Amnesty International reports an emergency caesarean section saved the girl and her unborn child, but only at grave risk to the 11-year-old's health. Despite a "global and national outcry," Amnesty argues, Paraguayan authorities denied the girl a potentially life-saving abortion and instead demanded that she carry her rapist's child to term.
Now, those same authorities have found an ally in the Republican Party: presidential candidate and former Arkansas Gov. Mike Huckabee, who suggested that the rape-induced pregnancy was brimming with "possibility." 
In an interview with CNN's State of the Union on Aug. 16, Huckabee, who opposes abortion even in cases of rape and incest, defended the decision to deny the girl's right to terminate the pregnancy because "when I think about one horror, I also think about the possibilities."
"Creating one problem that is horrible — let nobody be misled, a 10-year-old girl being raped is horrible — but does it solve a problem by taking the life of an innocent child?" Huckabee commented. "And that's really the issue."
"When an abortion happens, there are two victims," Huckabee continued. "One is the child, the other is that birth mother, who often will go through extraordinary guilt years later when she begins to think through what happened, with the baby, with her."
"There are no easy answers here," he concluded. "And I realize that there are some people that will be very different in their view of this than me. And I respect that. I don't want to get into a shouting match with people who think I'm wrong. I respect that."
Huckabee, one of the most socially conservative Republican candidates for president, is currently tracked by Public Policy Polling at around 10% support for the nomination, behind real-estate mogul Donald Trump, former Florida Gov. Jeb Bush and neurosurgeon Ben Carson.
While Huckabee's position on abortion may seem extreme, many other conservative contenders for the presidency have used similar rhetoric to stake out their anti-abortion bona fides. Florida Sen. Marco Rubio has recently been touting his belief that "irrespective of the conditions in which that life was conceived or anything else," abortion should be prohibited, an apparent change from prior years in which he advocated exemptions in cases of rape or incest.
As the Washington Post's Paul Waldman writes,  hardline positions on abortion are increasingly taking the forefront this primary season despite the deep unpopularity of those views with most Americans. According to Waldman, more than 80% of Americans support rape or incest victims' right to an abortion, while 60-70% are against overturning Roe v. Wade.
Watch the video below:
h/t Raw Story