Here It Is: Donald Trump's Long-Awaited Immigration Plan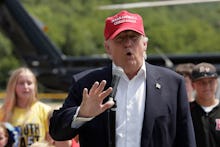 Donald Trump's immigration plan is finally here — and as anyone tracking his campaign might have predicted, it's a real doozy.
In a post to his website spanning just over five pages, Trump's campaign laid out three "core principles of real immigration reform," writing "a nation with borders is not a nation," "a nation without laws is not a nation" and "a nation that does not serve its own citizens is not a nation."
"We will not be taken advantage of anymore," reads the platform, which also said Trump will end the long-established policy of birthright citizenship protected by the 14th Amendment to the U.S. Constitution.
Trump reiterated his call for Mexico to pay for a border wall along the U.S.-Mexico border, saying "the Mexican government has taken the United States to the cleaners. They are responsible for this problem, and they must help pay to clean it up." If the Mexican government refuses to pay for the wall, Trump would impound remittance payments from illegal wages, increase temporary and NAFTA worker visa fees, and begin ramping up fees at all ports of entry from Mexico.
Trump also says he will triple the number of U.S. Immigration and Customs Enforcement agents patrolling the border, begin a national e-verify program for employees, detain all undocumented immigrants until they are deported and immediately return all "criminal aliens" to their countries of origin.
The platform struck a nativist tone, saying that the current immigration system in the United States hurts American citizens (especially blacks, who have been "particularly harmed"). Trump would also seek to end the J-1 exchange visitor visa program, require all immigrants to establish they can provide for themselves and require employers to hire U.S. citizens first.
"They have to go ... we either have a country, or we don't have a country," Trump told NBC News' Meet the Press on Sunday.
The Trump campaign has found itself at the heart of the debate over immigration reform since the candidate referred to undocumented Mexican immigrants as "rapists" and "criminals" during his announcement speech in June. He later brought the father of a young man murdered by an undocumented immigrant, Jamiel Shaw Sr., to speak during rallies in Phoenix and Las Vegas. Shaw Sr. used his time at the podium to accuse some undocumented immigrants of raising their children "like a wild animal."
These incidents have proven particularly irritating to Republican leadership, which has for years been trying to bring key GOP leaders around on an immigration reform package that includes a pathway to citizenship for those illegally residing in the country. Trump's remarks have proven particularly damaging to his perception among Hispanics, of whom 75% had a negative view of the real-estate magnate in a recent Wall Street Journal/NBC News/Telemundo poll.
A Fox News poll currently sees Trump in the lead to win the Republican nomination at 25% support among likely Republican primary voters.