Here's What Happened When Janelle Monáe Brought Up #BlackLivesMatter On the Today Show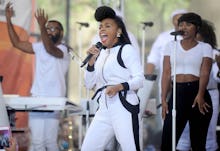 During a performance on Friday's episode of NBC's Today show, black singer-songwriter Janelle Monáe was apparently cut off after she began to dedicate a song to victims of police brutality.
VH1 reports Monáe was delivering her new song "Hell You Talmbout," which the Verge describes as "both a protest song and a tribute; a call to arms and a forceful reminder of the tragic, tangible consequences of police brutality," before the feed rapidly switched to commercials.
"God bless all who've lost lives to police brutality. We want white America to know that we stand tall today. We want black America to know we stand tall today. We will not be silenced!" Monáe said. At that point, the camera quickly panned away and an anchor began to speak over her.
Barring an outright admission from NBC, whether or not the network deliberately chose to silence Monáe may never be known. But it seems like more than an odd coincidence that the singer's passionate call to arms for the #BlackLivesMatter movement happened to be the moment the show's producers decided their audience didn't need to hear any more.
Watch the video below (cutoff begins at 6:50):
h/t VH1