Ellen DeGeneres' Teen Choice Speech on Celebrating Differences Deserves a Standing Ovation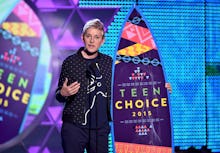 "You should be proud of being different." 
That was the heart of Ellen DeGeneres' acceptance speech for choice comedian at the Teen Choice Awards on Sunday night. On her seventh wedding anniversary to actress Portia de Rossi, DeGeneres discussed the importance of being different and the need to celebrate one's uniqueness, rather than suppress it. 
"I want to say also it feels good to be chosen, but there was a time in my life that I was not chosen. I was the opposite of chosen because I was different," she said. In the past, DeGeneres has publicly discussed her own struggles with coming out and being accepted as a gay woman.
"I think I want to make sure that everyone knows that what makes you different right now, makes you stand out later in life," DeGeneres reminded her young voters. She said teenagers should find pride in what sets them apart, instead of shame.
"The most important thing I wanna say is just really embrace who you are because being unique is very, very important and fitting in is not all that matters." the comedian said. "It's being unique and being who you are," she said of what young people should prioritize, rather than trying to fit in.
DeGeneres incorporated her signature humor throughout her heartfelt message, explaining the convenience of the surfboard-shaped award as she was just on her way to the beach.
"I won a People's Choice Award. I would think that teens would be in that category. I don't know why teens are not in the 'people' category but if they're breaking it down, I'd like an award from the elderly and babies," she also noted.
Endearing humor aside, DeGeneres' message is an important one, particularly for young people.
"You should be proud of being different, proud of who you are." 
Watch the full speech here: