This Gorgeous Photo of a C-Section Scar Shows Us a Reality of Pregnancy We Never See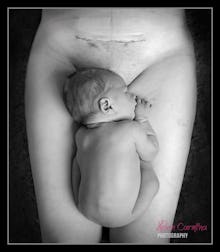 A stunning photo has been making the rounds on Facebook lately, and it spotlights an aspect of pregnancy for many women that we rarely talk about, let alone see:
The Cesarean section scar.
Helen Carmina, a U.K.-based photographer who specializes in images of new and expectant mothers, posted the photo of the new mom (who wishes to remain anonymous) on Facebook last week.
"Last week she went into labor but had to have an emergency c-section after complications," Carmina wrote. "She asked me to come over this morning and shoot this particular image as her worst nightmare proved to be what saved her and her child's lives."
"The image was shot in less than 5 minutes, the baby was already curled in that position from a previous shot so once mum was in position I just transferred baby straight onto mum took the shot and then dad took baby off her," she added in an email to Mic. "The reaction has been unbelievable."
C-sections are common. Although Carmina writes that the woman in the photograph was "terrified" of having a C-section, the procedure is far from rare. According to data from the Centers for Disease Control and Prevention, 32.7% of all births in the United States are delivered via Cesarean section, meaning more than 1 million U.S. women per year bear the same scar as the woman in the photo.
But even though an increasing number of women are opting for C-section delivery, a stigma still surrounds those bearing the tell-tale scars. There's a sizable industry of creams and surgical treatments offered to new moms who want to conceal their scars, and some women even eschew two-piece swimsuits because they're concerned about exposing their stomachs.
The photo has also generated some controversy on Facebook, with Carmina writing on Aug. 12 that a user had flagged the image as inappropriate. (Facebook's user guidelines prohibit gratuitous nudity and sexually explicit content, though Carmina's photograph falls into neither category.) Thankfully, however, Carmine wrote that "Facebook have [sic] decided not to take it down."
Facebook commenters, however, have overwhelmingly responded positively to the photo. "This is such a powerful image," wrote one commenter. "I also had an emergency c-section. It makes you realize the beauty in it all. Thank you so much for sharing." Other women have praised the image as "beautiful," "brave" and "amazing." 
Even some dads are coming out in support of the photo.
"My wife had both our children via c section," one father wrote. "She tries to hide it and wishes it wasn't there because it's a scar but every time I see I think about how she's the best mom I could've wanted for my children."
Aug. 18, 2015, 1:24 pm: This story has been updated. 
h/t Mirror