This Company Is Giving Girls Black Dolls That Are as Trendy as They Are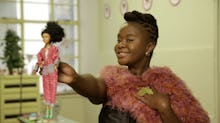 Black, Barbie-like dolls aren't anything new. But in South Africa, most dolls are still white, and any black dolls are usually dressed in traditional, ethnic prints instead of trendy and fashionable clothes.
That's where one small company is hoping to change things up. Momppy Mpoppy is a black doll who's got her own high heels and trendy pieces like denim overalls. She's the brainchild of Maite Makgoba, a 26-year-old entrepreneur who founded Childish Trading and Manufacturing after identifying a disconnect between how black dolls and all other dolls out there are typically designed. The results weren't appealing to children, she told the Agence France Presse.
"They were frumpy and unattractive, some in traditional attire. That is not the reality of today," Makgoba said.
The goal of Makgoba's company is about more than just making dolls in trendy clothes. It's about helping black girls see themselves in their toys and thereby reinforcing that black really is beautiful.
"This is more than just a business, we are creating awareness, that our dark skin and thick afro hair are pretty as they are," Makgoba told AFP.
It's a crucial step forward in a country like South Africa where white dolls and fair-skinned models dominate the culture, Makgoba said. "Black children are confronted with growing up in a world that does not represent them, everything is skewed towards whiteness."
Momppy Mpoppy joins a crowded doll market in South Africa and beyond. According to Connect Citizens, Barbies sell at a rate of 1 million a week globally, including sales in Africa; and "emerging markets" like South Africa's have seen toy sales grow 13% in recent years, compared to just 1% in developed countries.
Momppy Mpoppy isn't the only black doll company in Africa; other dolls like Queens of Africa have taken over sales in Nigeria, according to SME South Africa, going a long way to bring body and skin diversity to the toy market.
Unlike Momppy Mpoppy, however, they tend to put black dolls in more traditional clothing styles.
Dolls are more than just play things. They have the potential to impact children's body image — when girls play with dolls that look nothing like them, the result can be a lot of insecurities. 
That's what happened with Angelica Sweeting, an entrepreneur who ended up designing her own doll that more closely resembled women of color. When she got older, she realized how she'd been influenced by a societal beauty standard, she explained on Kickstarter:
"Here I am – 27 years old, and I am honestly just beginning to walk into who I am, my natural beauty. I want this to happen earlier, not only for my daughters but for your daughter, your niece, your sister and for all young girls around the world. I want this to happen for all the young girls who never felt pretty enough because of their kinks, curls, wider noses or fuller lips."
Here's hoping that Momppy Mpoppy with her trendy clothes can start helping young girls everywhere feel that they too are beautiful — and seriously cool.
h/t Yahoo!