Twitch Founder Justin Kan Was the Victim of a Racist Hate Crime in Silicon Valley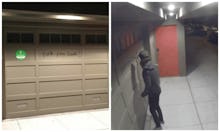 On Saturday morning in the tony Duboce Triangle neighborhood of San Francisco, Justin Kan, the founder of Justin.tv and online streaming titan Twitch — which sold to Amazon one year ago for about $1 billion — found a racist slur written on his garage door.
Kan's home is rigged with a set of Dropcam security cameras, which caught the whole incident on video. You can plainly see a man in a ball cap, hoodie and skinny jeans scrawl the words "Fuck you Gook!" at 3:38 Saturday morning.
"It's shocking, because I've never felt any racist outburst or felt racial prejudice," Kan, who is Asian-American, told Mic. "The Bay Area in general is the last place you'd think would be like that."
Kan described the vandal to Mic as a "hipster-y looking dude I don't recognize." What's on the man's hoodie is the most interesting part of his outfit: It's almost certainly a logo of the cloud-storage tool Dropbox, a tech company headquartered in San Francisco. But Kan said this guy is probably not an employee of that company; it's just as likely that he got the hoodie from Goodwill or swiped it from a party.
"I'm really good friends with a lot of Dropbox founders, and they must have a thousand employees now," Kan told Mic. "I doubt it's anyone who actually works with Dropbox." Dropbox declined to comment for this story.
The man's motives are unclear. At SFGate, Thomas Lee writes:
In some ways, it doesn't matter how many companies Kan has sold or the market value of the home he bought in a nice part of San Francisco. To some people, Kan is nothing more than a racial slur. Of course, we really don't know ... A friend of mine suggested the man could be just another anti-tech zealot angry about gentrification or the growing gap between rich and poor in San Francisco.
The Twitch community, which claims more than 100 million users per month, has been incredibly supportive to Kan. Other founders and Silicon Valley luminaries took to Twitter and Facebook to express their disgust and support. 
But not all expressions of support were equally appreciated. On Sunday, a neighbor painted over the graffiti — with the wrong shade of beige, without asking Kan.