Morgan Freeman's Step-Granddaughter E'dena Hines Murdered in Apparent "Exorcism"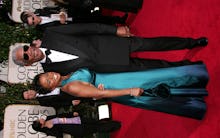 Lamar Davenport, 30, has been arrested in connection with the death of the 33-year-old step-granddaughter to Oscar-winning actor Morgan Freeman steps away from their New York apartment early Sunday morning.
Actress E'dena Hines was stabbed 16 times around 3 a.m. Sunday and later pronounced dead at Harlem Hospital Center. One witness told the New York Post that Hines' boyfriend, Davenport, was at the scene, yelling, "Get out, devils! I cast you out, devils! In the name of Jesus Christ, I cast you out!" Davenport was reportedly taken to a nearby hospital for a psychological evaluation.
Freeman released a statement Sunday afternoon, saying, "The world will never know her artistry and talent, and how much she had to offer. Her friends and family were fortunate enough to have known what she meant as a person. Her star will continue to shine bright in our hearts, thoughts and prayers. May she rest in peace."
Hines had recently moved back to New York to continue pursuing acting. She wrote on her blog on July 7, "My dream has come true and it's just beginning. Life can make you want to give up or walk away; sometimes it gives you the strength to appreciate when you do get your happy ending. "
"I've never seen E'Dena as happy as she was last night," a friend of the couple, who ate dinner with the two and others friends on Saturday night, told the Daily Beast. "I'm still trying to come to grips with what happened, I'm caught between the hate I have for him, my love for him being my brother and my heart breaking for her."
Although Hines and Freeman aren't related by blood (Freeman adopted Hines' mother during his first marriage to Jeanette Adair Bradshaw), the two were reportedly close, frequently attending film premieres and red carpet events together. 
A colleague and friend of Hines' also told the Daily Beast, "She was a true talent, she really was, and I'm so upset people won't know that now ... She would have had a great career."