Bangkok Bomb Explosion Kills 12, Leaves Dozens More Injured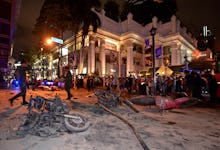 A deadly explosion near a Hindu shrine rocked central Bangkok on Monday, leaving scores of people injured and at least 12 people dead, the Associated Press reports. Local media reported 27 people may have been killed in the blast, according to the Telegraph. 
Police said a bomb remained active in the area and needed to be defused, according to CNN.
Authorities kept onlookers at bay, with one officer announcing to the crowd, "The situation is still not safe. Please all stay back. There might be another bomb in the area." A bomb squad had responded to the scene following the blast, CNN reported. 
The cause of the explosion, which occurred at 7 p.m. local time, was not immediately known, according to the AP. According to the Telegraph, Thailand's Defense Minister Prawit Wongsuwan said, "It was a TNT bomb. ... The people who did it targeted foreigners and to damage tourism and the economy." 
The blast occurred near several hotels and shopping centers at the Hindu Erawan Shrine, a tourist attraction and place of worship that was the scene of violent anti-government protests in May 2014, the Guardian reported. The Guardian reports at least 78 people were injured. 
Witnesses said they saw body parts and several overturned and burnt-out motorcycles on the street following the explosion. 
Witnesses described the scene as chaotic. "When I arrived they had already cleared the bodies from the ground outside the Erawan shrine but there were and there are still pieces of human flesh strewn around the intersection; it's really graphic," one bystander told the BBC. 
Bomb attacks are rare in Bangkok, according to the BBC, however a Muslim insurgency in the country's south has seen a rise in such attacks in that region of Thailand. "Of particular note are growing concerns that the conflict is no longer purely local in nature but has been systematically hijacked by outside extremists to avail wider transnational Islamist designs in southeast Asia," according to the nonprofit RAND Corporation. 
This is a developing story and will be updated.
Correction: Aug. 17, 2015