15 Heartbreaking Drawings Capture the #LastWords Spoken by Black Victims of State Violence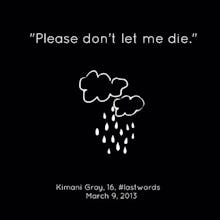 The sad truth about Shirin Barghi's #LastWords series is that it may never run out of material.
It started with Eric Garner. When the 43-year-old father of six was choked to death by former NYPD officer Daniel Pantaleo in July 2014, his final words, recorded on video and viewed thousands of times by people across the United States, were, "I can't breathe."
The phrase turned into a national rallying cry. "I can't breathe" was chanted by demonstrators in New York and other cities across the country for months afterward, becoming a statement of solidarity with the victim and his family as well as a symbolic articulation against a multi-generational police assault on all black Americans.
Barghi, an Iranian-born, New York-based artist, says she first encountered the Garner video in an article about another victim of police violence: Michael Brown, who was shot dead by former Ferguson, Missouri, police officer Darren Wilson nearly a month after Garner's death.
"It drew a connection for me," Barghi told Mic. "I didn't expect this project to continue, or take off the way it did. Seeing these two incidents side-by-side helped me realized this was an ongoing phenomenon in America."
The project didn't end there. In the year that has passed since Brown's death, Barghi has been illustrating and tweeting her own creative depictions of the last words spoken by slain black male victims of state violence in the U.S. The result is a haunting tribute to the dead and a heartbreaking reminder of the toll American racism takes daily on black families and communities.
In many ways, #LastWords has assumed a life of its own, she says. Artists and musicians have reached out to her about creating similar series' focused on other topics, like the war in Yemen. Activists in Ferguson have also spoken to her about amplifying the last words spoken by black women who have died at the hands of American police.
"I really want other people to continue this work," Barghi says. "First, I'm not black, which I realize influences my perspective. Black pain [in the U.S.] is very real. So the first thing I try to do is educate myself, build an awareness."
Barghi moved to the United States from Iran in 2011. Two years earlier, in 2009, an allegedly fraudulent election had sparked nationwide protest, resulting in countless opportunities to witness state violence and police abuse in Iran firsthand.
"I remember the video of Neda Agha-Soltan being shot by the police," Barghi said. Agha-Soltan's death, which was captured on video in June 2009, became a symbolic rallying point for the protests. "Her last words were something like, 'I'm burning! I'm burning!' which to me spoke so much to that generation of Iranians."
In August 2014, Barghi began creating and tweeting her work on police violence in the U.S., based on the idea that seeing the last words spoken by these individuals would further humanize them, forcing viewers to consider their own potential words under similar circumstances.
The series was celebrated at the time by a variety of advocates and outlets for its topicality and starkly impactful rendering. None of this has changed in the year since, but the list of names has grown steadily longer, from a handful of then-notorious cases — including Garner, Sean Bell and Amadou Diallo — to a seemingly endless flood of new victims, which now includes Samuel Dubose, who was killed by a campus police officer in Cincinnati during a traffic stop last month, and Christian Taylor, who was shot dead by police at a car dealership in Arlington, Texas, on August 7. In this case, Barghi captured a tweet days before Taylor's life was cut short. 
When asked what she hopes people will take away from the #LastWords series, Barghi is pensive. "I guess I would like people to educate themselves and really look into these people's stories," she says. "Because it did make me do that. And I hope people use this to learn what police violence in the U.S. really looks like."
"But really, there's nothing inspirational here."
In the meantime, her work of documenting the last words spoken by black people killed by police continues unabated — and doesn't look like it'll be ending anytime soon.