Chicago Comic Con 2015: Panels, Ticket Info, Guest Appearances and More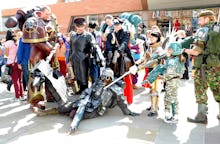 Chicago's 2015 Wizard World Comic Con is returning to Chicago Thursday, Aug. 20, for a weekend full of costumes, superheroes and pop culture. The event is being held at the Donald E. Stephens Convention Center in Rosemont and will run from Thursday through Sunday night. 
The sold-out event, which attracts tens of thousands of attendees from across the country, continues the annual tradition since its 1972 inception. 
"We are excited about the growth of our shows, and that so many fans look forward to Wizard World Chicago every year," Jerry Milani, spokesman for Wizard Entertainment, organizer of the event, told the Daily Herald.
The guest list for this year's Comic-Con event boasts some big names from Hollywood, hosting "interactive sessions" with stars including Jeremy Renner (Avengers: Age of Ultron, Mission: Impossible - Rogue Nation), Burt Reynolds (Smokey and the Bandit), Stephen Amell (Arrow), Ian Somerhalder (The Vampire Diaries) and Tobin Bell (Saw, Saw II).
Comedian Nick Swardson will host a program Saturday at 5:30 p.m. The Wizard World's website is still tight-lipped about the event, but teases it will have audiences "go to Hell and Back with comedian Nick Swardson." Swardson's latest project is a stop-motion animated film titled Hell & Back. He told Collider:
It's stop-motion, and it's a hard R. We just said the craziest shit. I got Danny [McBride] involved in it.  It was fun. We would record, and there was no filter. We were so crazy. It was funny seeing these characters, that you would grow up seeing on kids' cartoons and Christmas specials, and it's just this filthy, crazy movie. We're almost done with that.  That's going to wrap up soon. It's really cool. Wait until you see it.
Following Swardson's event, World of Warcraft's music composer Jason Hayes will host a concert Saturday at 6:30 p.m., performing original music and celebrating music from popular games with his video game tribute band Critical Hit. 
Although four-day weekend admission for the event has sold out, fans can purchase one-day admission tickets, as well as photo-op experience tickets, autograph event tickets, VIP packages and even access to Bruce Campbell's horror film festival hosted by the Wizard World, through the event's official website.
Attendees can expect to see celebrities, costumes and even exclusive art associated with their favorite comics at the 2015 Chicago Wizard World Comic-Con. A full schedule of the event's programming is available here.