New 'Stonewall' Trailer Parody Frames the Historical Drama as a Disaster Movie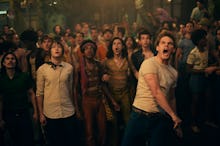 Upon the release of the first trailer for Roland Emmerich's Stonewall, it was easy to guess the film would become a lightning rod for controversy. The drama couldn't even wait for the film's actual release; threats of boycott are already flying, and there's even a new parody trailer to skewer the film.
The clip was created by four comedians: Heather Dockray, Taylor Grode, Ben Dwork and Yeni Sleidi. It recuts the original trailer as a disaster movie like Emmerich's 2012, The Day After Tomorrow and more, even including infamous scenes like the attack on the White House in Independence Day.
The disaster in Stonewall's case, the trailer argues, is how it cuts out the people who were actually present in favor of the fictional Danny's story. This parody is a statement: Boycotters won't go quietly.
This controversy doesn't look to be letting up. Anger towards Emmerich and the film is only growing, taking issue with everything from the removal of trans characters to the depiction of Danny throwing the first brick, rather than Sylvia Rivera's high-heeled shoe, as the legend goes.
The parody makes fun of Rivera's seeming absence, too. It's just another of the film's many sins, the boycotters are saying. We'll see when the film is released Sept. 25 exactly how much damage this all has done.
The complaints are clear: Stonewall apparently replaces the people who were actually at the Stonewall riots, including many trans people, women and people of color, with a white, conventionally attractive protagonist (Danny, played by Jeremy Irvine). The backlash grew so deafening that Emmerich had to respond on his Facebook page, essentially asking protesters to wait for the final product.
Watch the full parody trailer below.
August 17, 2015, 12:43 p.m.: This story has been updated.