Apple TV Release 2015: How Apps and Streaming Could Revolutionize Apple's Latest Product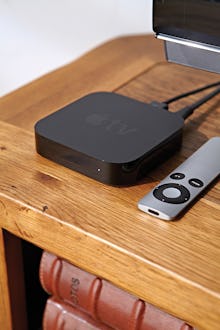 A new design, better speed and Siri voice command are just a few of the changes likely coming to Apple TV, Apple's streaming digital media player, later this year. Perhaps the biggest updates, however, could be the addition of a dedicated app store and digital TV service that would allow users to stream dozens of cable channels directly through Apple TV, according to the Telegraph. 
While Apple TV's release date hasn't been confirmed, tech insiders expect the company will unveil its latest product alongside its new iPhone 6s at a media event Sept. 9.
Here are the latest updates on what we know about Apple's revamped Apple TV media player: 
Hello, apps: Apple TV could, for the first time, allow developers to build apps through a software development kit, the Telegraph reports. 
Apple TV currently features only a handful of third-party programs. Including an app store would allow users to browse apps instead of just what Apple calls "channels." 
"The Apple set-top box doesn't currently let users download new apps or channels, limiting them to whatever Apple installed or updated," ReadWrite reported. "People have complained for years about this fundamental omission, which kept Apple TV-connected televisions from running the same apps people enjoy on their iPhones or iPads."
Doing so would also likely give approved content providers the opportunity to introduce all kinds of new features on Apple TV. 
Streaming TV channels: Apple has reportedly been working with U.S. broadcasters ABC, CBS and Fox, among others, to bring Apple TV users dozens of live cable channels for a subscription fee of between $30 and $40 per month. 
"Streaming TV would provide another future growth avenue into the next generation consumer," market analyst Daniel Ives told Bloomberg Business. "It represents the next frontier for [Apple CEO Tim Cook]."
However, the integration of the service would likely be delayed until 2016, according to Bloomberg, as licensing and price talks have hampered the process. 
In light of increased competition from other companies making media streaming players, Apple, which hasn't updated its Apple TV for over two years, is overdue for a revamp. Many Apple enthusiasts thought the company would unveil its latest digital media player in June at Apple's Worldwide Developers Conference in San Francisco, but Business Insider reported licensing problems delayed the release. 
While Apple has kept the details of its Apple TV release tightly under wraps, insiders expect the new set-top to be thinner, faster and better equipped. It will also likely come with a new touchscreen remote that includes more features than the current remote, according to the New York Times.